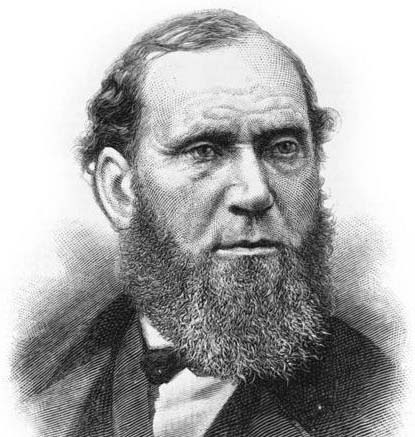 The Religious Affiliation of


Allan Pinkerton


Religion: Presbyterian

Name: Allan Pinkerton
Classification:

real/historical person
Publisher(s):

Earliest Appearance Listed in This Database: In the Days of Buffalo Bill (1922)
Creators: Robert Dillon, Edward Laemmle, Burton Law (actor)
Number of Appearances: 14
Comic Book Appearances: 1
TV, Film Appearances: 13
Employer: Pinkerton National Detective Agency
Occupation: business owner, private investigator, spy
Location: Chicago, Illinois, USA
Birth Place: Glasgow, Scotland, United Kingdom
Gender: male
In panel 4 of page 3 of the Superman story in the 1940 edition of New York World's Fair Comics, Lois Lane is having lunch with Clark Kent at the New York World's Fair. Clark spots Blackie Sarto, a European-based jewel thief. He tells Lois, but she doesn't believe his identification of the man at the table next to them is correct. Lois tells her fellow reporter, "You slay me, Clark! Don't you know that the Pinkerton men at the Fair check up on all criminals and won't allow them inside the grounds?"
The "Pinkerton men" Lois refers to here is a common nickname for the Pinkerton National Detective Agency, which was one of the largest private security firms in the country. The "Pinkerton men" often worked for government. The private detective agency was founded by Scottish-born Allan Pinkerton, a famous private investigator and spy.
Allan Pinkerton was married in a religious ceremony, but was forced to flee his native Scotland immediately afterward. He brought his new wife to the United States, which is where he prospered in setting up his famous agency. The degree to which Pinkerton was religiously active as an adult is a topic needing further study.
This character is in the following 2 stories which have been indexed by this website:

In the Days of Buffalo Bill (1922)

New York World's Fair Comics #2 (1940): "Superman at the World's Fair"
(mentioned)

Suggested links for further research about this character and the character's religious affiliation:
- http://en.wikipedia.org/wiki/Pinkerton_National_Detective_Agency
- http://en.wikipedia.org/wiki/Allan_Pinkerton
- http://www.trutv.com/library/crime/gangsters_outlaws/cops_others/pinkerton/1.html
- http://www.imdb.com/character/ch0118662/
- http://www.comicvine.com/lucky-luke-lucky-luke-versus-the-pinkertons/37-332207/