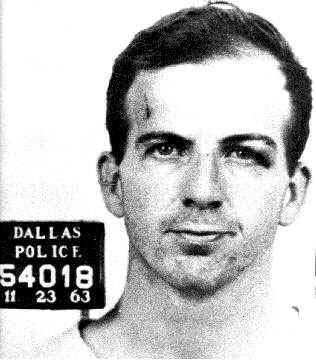 The Religious Affiliation of


Lee Harvey Oswald


Religion: Lutheran (raised); Communist

Name: Lee Harvey Oswald
Classification:

villain

real/historical person
Earliest Appearance Listed in This Database: Avengers West Coast #60 (July 1990): "Personal Magnetism"
Creators: Roy Thomas, Dann Thomas, Paul Ryan, Danny Bulanadi
Number of Appearances: 84
Comic Book Appearances: 2
TV, Film Appearances: 27
TV, Film Appearances As Himself: 55
Teams/Affiliations: United States Marine Corps
Enemy of: John F. Kennedy
Employer: Leslie Welding Company
Employer: Jaggars-Chiles-Stovall
Employer: etc.
Occupation: soldier
Nation: USSR
Birth Place: New Orleans, Louisiana, USA
Gender: male
Note: shot Pres. John F. Kennedy?
There may still be questions about whether or not Lee Harvey Oswald show President John F. Kennedy. But there is no real question about what his religion was. He was a Communist by choice and this was an extremely important part of his personality, belief system, and motivations for why he did the things he did.
Lee Harvey Oswald was raised as a Lutheran. He was baptized at the Trinity Lutheran Church at New Orleans, Louisiana, in November 1939. As an adult, Oswald did not regard himself as a Lutheran.
Lee Harvey Oswald told interviewers (http://www.spartacus.schoolnet.co.uk/JFKoswald.htm), "I think the best religion is Communism." He also said (http://www.ratical.org/ratville/JFK/LHO.html): "What religion am I? I have no faith, I suppose you mean, in the Bible. I have read the Bible. It is fair reading, but not very interesting. As a matter of fact, I am a student of philosophy and I don't consider the Bible as even a reasonable or intelligent philosophy. I don't think of it... I have been a student of Marxism since the age of 14."
Lee Harvey Oswald is mentioned in Joker: Last Laugh #4 (Dec. 2001). In this issue, the villainous Joker has escaped from the Slab, along with all of the other super-villains incarcerated there. He has led them on a mad rampage, wreaking random, chaotic havoc throughout the world. The president at the time is Lex Luthor, and the Joker is miffed about the Commander-in-Chief's attempts to thwart and apprehend the Joker and his legion of villains. In panels 1 through 3 on page 18 (page 113 in the Joker: Last Laugh trade paperback), the Joker tells his super-villain followers, "You boys are going to Washington D.C. and ending Luthor's term for me. Nobody threatens me from the bully pulpit... I want you to Lee Harvey Oswald his presidential behind. Kill him! Make him an Ex-President! Give him an Arlington dirt nap!"
This character is in the following 4 stories which have been indexed by this website:

Avengers West Coast #60 (July 1990): "Personal Magnetism"

I Due Kennedy (1969)

Joker: Last Laugh #4 (Dec. 2001): "Everyone Knows This is Nowhere"
(mentioned)

Justice (vol. 2) #25 (Nov. 1988): "Changes"
(mentioned)

Suggested links for further research about this character and the character's religious affiliation:
- http://www.imdb.com/character/ch0027830/
- http://www.imdb.com/name/nm0652640/
- http://www.spartacus.schoolnet.co.uk/JFKoswald.htm
- http://mcadams.posc.mu.edu/carro.htm
- http://www.ratical.org/ratville/JFK/LHO.html
- http://educationforum.ipbhost.com/index.php?showtopic=4967
- http://en.wikipedia.org/wiki/Lee_Harvey_Oswald
- http://www.marvunapp.com/master/os.htm
- https://www.comics.org/issue/48192/
- http://comicbookdb.com/issue.php?ID=11936