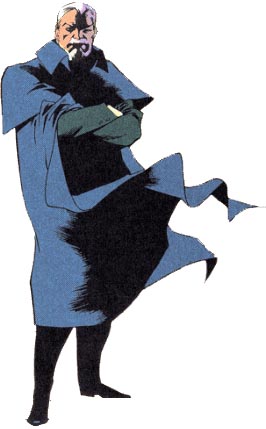 The Religious Affiliation of


Deacon Frost


Religion: vampire religion

Name: Deacon Frost
Other Names: Whitehair
Classification:

villain

scientist
Publisher(s):

First Appearance: The Tomb of Dracula (vol. 1) #13 (Oct. 1973): "To Kill a Vampire!"
Creators: Marv Wolfman, Gene Colan, Tom Palmer
Super? (Has Super Powers/Special Abilities/Technology): Yes
Number of Appearances: 29
Enemy of: Blade, Hannibal King
Ally: Dracula
Occupation: chemist, doctor, scientist
Nation: Germany
Gender: male
Deacon Frost is a major enemy of Blade and Hannibal King. It was Frost who killed Blade's mother, prompting Blade to become a vampire hunter. It was Frost who transformed Hannibal King into a vampire.
Despite his name, Deacon Frost is not a "deacon" in any church. ("Deacon" is a common title or office in many Christian denominations.) Before becoming a vampire, Deacon Frost was a physician and scientist. "Deacon" is simply his given first name. As far as is known, Deacon Frost never actually held any office or clerical position in any church.
Given the fact that his parents named him "Deacon" and he was born in Germany in the 1800s in a time when most Germans were Catholics or Lutherans, it can safely be assumed that Deacon Frost was born into a Christian family. But Deacon Frost has never demonstrated any interest in Christianity or any other more "normative" human religion. While he was still a regular human, Deacon Frost was obsessed with seeking immortality using vampire blood. Since achieving that goal, he has been particularly keen in pursuing religious aspects of vampirism - at least more than most vampires. This is particularly evident in the Blade feature film, but there is also evidence of this in comics. In Blade: Crescent City Blues (Mar. 1998), utilized his mastery of science and vampire magic to create a doppelganger of himself. This doppelganger made a pact with the demon Nezaral to obtain demonic power.
Once obtaining vampiric immortality, one of Deacon Frost's primary goals was to become the lord over all vampires and to increase the power and influence of vampires over the rest of the world. Deacon Frost's villainous thirst for power has always been a key part of his character. He was never a "rank-and-file" vampire who just wanted to be left alone or survive with minimal discomfort and interference.
Deacon Frost was featured in the first Blade feature film (1998), played by actor Stephen Dorff. As portrayed in the film, Deacon Frost was very religious in vampire religion. His principal goal was to become La Magra, the vampire Blood god. It was Deacon Frost's desire to use the power such status would give him to rid the world of humans. It was his religious belief that the world was destined to become the dominion of vampires. To achieve his goals (which were, of course, opposed by Blade), Deacon Frost used many vampire religious rituals.
This character is in the following 2 stories which have been indexed by this website:

Blade (vol. 2) #1 (Nov. 1998): "Crescent City Blues"

The Tomb of Dracula (vol. 1) #13 (Oct. 1973): "To Kill a Vampire!"

Suggested links for further research about this character and the character's religious affiliation:
- http://en.wikipedia.org/wiki/Deacon_Frost
- http://www.marvunapp.com/Appendix3/frostdeaconblade.htm
- http://comicbookdb.com/character.php?ID=8471
- http://www.marvunapp.com/master/frffrz.htm
- https://www.comics.org/issue/26793/
- http://comicbookdb.com/issue.php?ID=23532