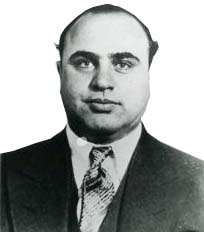 The Religious Affiliation of


Scarface


Al Capone

Religion: Catholic

Name: Scarface
Alter Ego: Al Capone
Other Names: Alphonse Gabriel "Al" Capone
Classification:

villain

real/historical person
Earliest Appearance Listed in This Database: Call of Youth (1942)
Creators: Dinshaw Bilimoria, Samson (actor)
Number of Appearances: 109
Comic Book Appearances: 9
TV, Film Appearances: 66
TV, Film Appearances As Himself: 32
Video Game, Computer Game Appearances: 2
Teams/Affiliations: Mafia
Occupation: gangster
Birth Place: Brooklyn, New York City, New York, USA
Gender: male
In panel 3 on page 3 in Superman #167 (Feb. 1964), Lex Luthor is in his secret lair when he walks by a display of four statues of his heroes: Atilla the Hun, Genghis Khan, Captain Kidd an Al Capone. Luthor thinks, "My heroes . . . the greatest marauders of the ages! I dreamed of being as great as they and I would be, if Superman didn't always stop me!"
Al Capone is mentioned in Incredible Hulk (vol. 2) #314 (Dec. 1984). In panel 1 on page 5, the narrative caption introduces a scene that takes place in Chicago (the home of Hulk ally Doc Samson): "...and a few hours later, a thousand miles east, the legendary 'City of the Big Shoulders' sprawls along the gleaming shores of Lake Michigan. Chicago. Renowned in song and fable as the home of complex politics, Al Capone, world-class pizza . . . and at least one erstwhile superhero."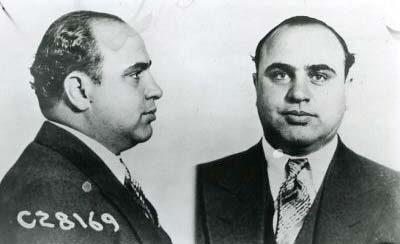 This character is in the following 8 stories which have been indexed by this website:

The Amazing Spider-Man (vol. 1) #600 (Sep. 2009): "Last Legs"
(mentioned)

Call of Youth (1942)

Captain America (vol. 1) #169 (Jan. 1974): "When a Legend Dies"
(mentioned)

I Due Kennedy (1969)

The Incredible Hulk (vol. 2) #314 (Dec. 1985): "Call of the Desert"
(mentioned)

Lois & Clark: The New Adventures of Superman - Season 2, Episode 7 (13 Nov. 1994): "That Old Gang of Mine"

Superman (vol. 1) #167 (Feb. 1964): "The Team of Luthor and Brainiac!"
(statue)

X-Factor (vol. 3) #37 (Jan. 2009)
(mentioned)

Suggested links for further research about this character and the character's religious affiliation:
- http://en.wikipedia.org/wiki/Al_Capone
- http://www.comicvine.com/al-capone/29-14959/
- http://www.imdb.com/character/ch0003952/
- http://www.imdb.com/name/nm0135330/
- http://comicbookdb.com/character.php?ID=25825
- https://www.comics.org/issue/40779/
- http://comicbookdb.com/issue.php?ID=18570