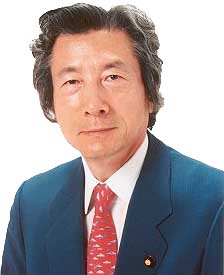 Prime Minister Koizumi


Religion: not determined yet

Name: Prime Minister Koizumi

Other Names: Junichiro Koizumi

Classification:

supporting character

real/historical person
Publisher(s):

Earliest Appearance Listed in This Database: Sable & Fortune #1 (Mar. 2006)
Creators: Brendan Cahill, John Burns
Number of Appearances: 8
Comic Book Appearances: 1
TV, Film Appearances As Himself: 7
Enemy of: Sword of Glory
Occupation: Prime Minister
Race: Asian
Gender: male
Note: targeted by Muslim terrorists Sword of Glory
Prime Minister Koizumi never actually appeared "on-panel," but he was mentioned as somebody who was targeted by the North African fanatical terrorist group known as "Sword of Glory." (Presumably this was a Muslim jihadist terrorist group.) Koizumi may have been killed by a sleeper assassin recruited by the villainous Silver Wolf, a former member of Wild Pack.
This character is in the following story which has been indexed by this website:

Sable & Fortune #1 (Mar. 2006)
(mentioned)

Suggested links for further research about this character:
- http://en.wikipedia.org/wiki/Junichiro_Koizumi
- http://www.imdb.com/name/nm2414960/
- http://www.marvunapp.com/master/ko.htm
- http://www.marvunapp.com/master/svsx.htm
- https://www.comics.org/issue/291280/
- http://comicbookdb.com/issue.php?ID=31099