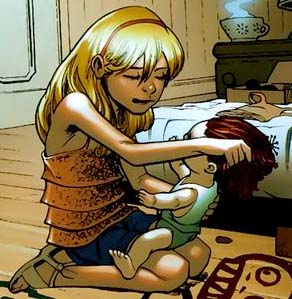 Marci Sabol


Religion: indeterminate

Name: Marci Sabol

Classification:

supporting character
Publisher(s):

First Appearance: New Mutants (vol. 3) #1 (July 2009): "Return of the Legion, Part 1: We Were Many, Once"
Creators: Zeb Wells, Diogenes Neves, Cam Smith, Edgar E. Tadeo
Number of Appearances: 4
Enemy of: Legion
Defended or Helped by: The New Mutants
Location: Westcliffe, Colorado, USA
Gender: female
Note: young girl New Mutants rescued from Legion
Marci Sabol is a major supporting character in the first 4-issue story arc of the third volume of the New Mutants series. She was an important supporting character in the 5th issue of this series as well, which dealt with the ramifications of the first story arc.
Marci Sabol's last name is identified on a "Missing Child" poster seen in panel 2 on page 22 of New Mutants (vol. 3) #1 (July 2009). The same page states that Marci is seven years old (panel 5).