The Religious Affiliation of


Aakon


Religion: Aakon religion

Name: Aakon
Other Names: The Aakon; Aakon race
Classification:

supporting characters

villains

group
Publisher(s):

First Appearance: Captain Marvel (vol. 1) #8 (Dec. 1968): "And Fear Shall Follow!"
Creators: Arnold Drake, Don Heck, Vince Colletta
Number of Appearances: 14
Enemy of: Kree
Ally: Shadow Consortium
Type of Organization/Group: alien race
Planet: Oorga
Note: invoke Aakis, Sharee, Yasa
The Aakon race does not appear to be extremely religious, and they have exhibited some unsavory characteristics generally. But they are not purely materialistic or naturalistic. A principle deity appears to be Akis, who has been referenced or invoked by Aakon.
Other deities invoked by the Aakon are Sharee and Yasa, who are typically invoked together, as seen in Captain Marvel (vol. 1) #9.
Individual members of the Aakon alien race include Aalbort, Aaron, Daakor, Rambu, and Why'rion.
The Aakon home planet is Oorga, but they have colonized other planets, including Nycos Aristides.
Number of group members listed below: 7
Character
(Click links for info about character
and his/her religious practice, affiliation, etc.)
Religious
Affiliation
Team(s)


[Notes]

Pub.
#
app.

[invoke Aakis, Sharee, Yasa]

14
Aakon
[accountant for traders; met Starfox and Heater Delight]
1
Aakon
1
Aakon
[led group of warriors sent to destroy all Earth life]
2
Aakon
[cyborg]
2
[1st app: Nova (vol. 2) #9 (Sep. 1994)]
6
Aakon
[helped Ronan guard alien-imposed barrier around Earth]
2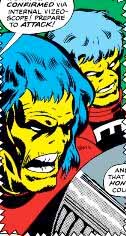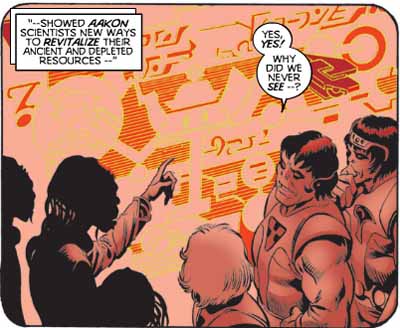 This character is in the following 15 stories which have been indexed by this website:

Annihilation: Nova

Captain Marvel

Marvel Comics Presents (vol. 1) #22 (June 1989): "New Worlds to Conquer"

Maximum Security

Maximum Security: Dangerous Planet #1 (Oct. 2000): "A Very Dangerous Planet"

Nova

Suggested links for further research about this character and the character's religious affiliation:
- http://marvel.com/universe/Aakon
- http://www.comicvine.com/aakon/65-57912/
- http://www.marvunapp.com/master/aaac.htm
- http://www.marvunapp.com/master/shamshar.htm
- http://www.marvunapp.com/master/yaye.htm
- http://www.marvunapp.com/master/onoq.htm
- http://www.marvunapp.com/master/npnz.htm
- https://www.comics.org/issue/22396/
- http://comicbookdb.com/issue.php?ID=36388