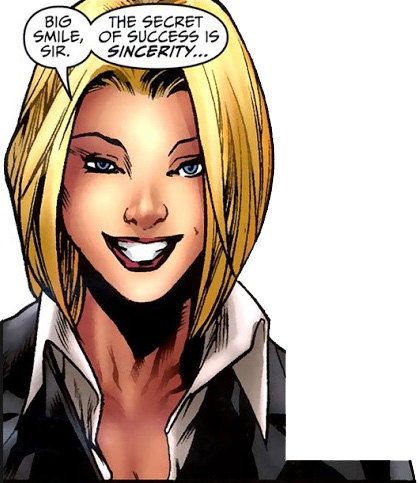 The Religious Affiliation of


Natalie


Religion: Latter-day Saint

Name: Natalie
Classification:

supporting character
Publisher(s):

First Appearance: Thunderbolts (vol. 1) #137 (Dec. 2009)
Creators: Rick Remender, Mahmud A. Asrar, Rebecca Buchman
Number of Appearances: 1
Enemy of: Norman Osborn, H.A.M.M.E.R., Agent Choi
Employer: Rand International
Occupation: assistant
Worked for: Iron Fist
Location: New York City, New York, USA
Gender: female
Natalie was a beautiful blonde woman who was briefly seen helping Danny Rand (a.k.a. Iron Fist) get to an important business meeting with a potential investor named "Mr. Thompson."
Unfortunately for Rand, Norman Osborn somehow infiltrated the building and was in the meeting room instead of the expected investor. Or, even more likely, the entire meeting was a sham from beginning. It was a ruse concocted by Osborn and H.A.M.M.E.R. in order to capture Rand. There was no "Mr. Thompson," there was only Norman Osborn himself.
Osborn's black ops team, the Thunderbolts, captured Rand. After Rand had been captured, it was shown that Natalie had been murdered at Osborn's behest, apparently by H.A.M.M.E.R. operative Agent Choi, an Asian woman. Osborn ordered Agent Choi to make certain the driver who brought Natalie and Rand to the building was killed, along with anybody else who talked to Rand during the last 3 hours. Osborn had nothing against Natalie personally. He simply didn't want any "loose ends" as he and his people abducted Danny Rand because he planned to brainwash Rand in order to use Iron Fist as a deadly addition to his Thunderbolts team.
Based on Natalie's apparel, appearance, manner of speech and behavior, and in honor of Rick Remender's debut as the new writer of the Thunderbolts series, we are assuming that Natalie is (at least nominally) a Latter-day Saint.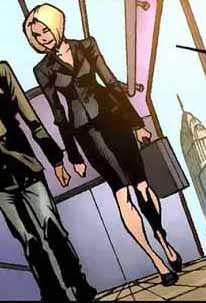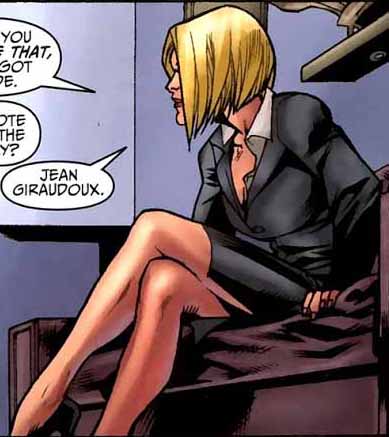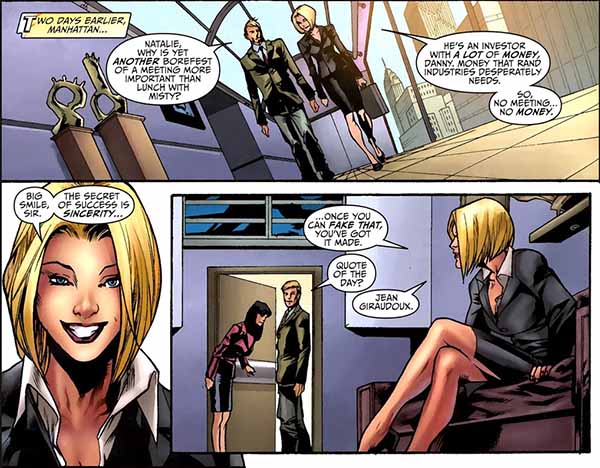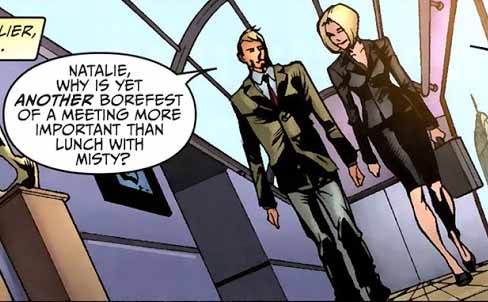 This character is in the following story which has been indexed by this website:

Thunderbolts (vol. 1) #137 (Dec. 2009)
(4-panel cameo)

Suggested links for further research about this character and the character's religious affiliation:
- http://marvel.wikia.com/Thunderbolts_Vol_1_137
- http://comicbookdb.com/issue.php?ID=183238