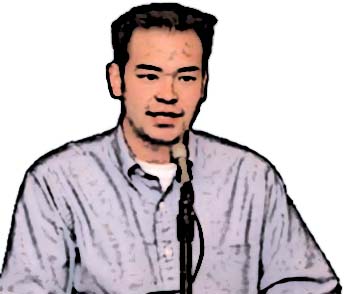 The Religious Affiliation of


Shon


Religion: Assemblies of God

Name: Shon
Classification:

supporting character

based on a real person
Publisher(s):

First Appearance: Thunderbolts (vol. 1) #137 (Dec. 2009)
Creators: Rick Remender, Mahmud A. Asrar, Rebecca Buchman
Number of Appearances: 1
Ally: Karen
Employer: Shon and Karen Plus Seven (reality TV series)
Gender: male
Note: based on reality TV star Jon Gosselin
In the Marvel Universe, Shon is one of the titular stars of the popular reality TV series "Shon and Karen Plus Seven." This show is directly based on the real-life reality TV series "Jon & Kate Plus 8," which was shown on TLC (The Learning Channel) for many years.
Shon, without any changes other than his name, is based directly on Jon Gosselin.
In Thunderbolts #137 (Dec. 2009), Ant-Man (Eric O'Grady) gushed to his fellow teammates on the Thunderbolts team about the "Shon and Karen Plus Seven" TV show. His "pop culture references" annoyed many of his teammates, particularly Mister X, who threatened to kill him if he didn't shut up.
This character is in the following story which has been indexed by this website:

Thunderbolts (vol. 1) #137 (Dec. 2009)
(mentioned)

Suggested links for further research about this character and the character's religious affiliation:
- http://en.wikipedia.org/wiki/Jon_&_Kate_Plus_8
- http://en.wikipedia.org/wiki/Jon_Gosselin
- http://wiki.answers.com/Q/What_is_Jon_and_Kate_Gosselin's_religion
- http://marvel.wikia.com/Thunderbolts_Vol_1_137
- http://comicbookdb.com/issue.php?ID=183238