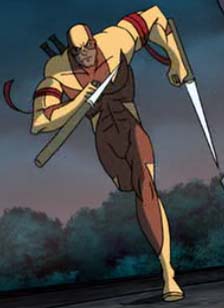 unidentified villain


Religion: not determined yet

Name: unidentified villain

Classification:

villain
First Appearance: Superman/Batman: Public Enemies (2009)
Creators: Jeph Loeb, Stan Berkowitz, Sam Liu
Super? (Has Super Powers/Special Abilities/Technology): Yes
Number of Appearances: 1
Gender: male
Note: attacks with short spears; tried to collect Superman bounty
An unidentified super-villain who attacks with weapons that look like short spears attached a nunchuk or wooden cylinder was featured in the direct-to-DVD film Superman/Batman: Public Enemies (2009). This villain was part of army of villains out to collect a $1 billion bounty President Lex Luthor placed on Superman. The villain was almost certainly not newly introduced in this film but is an established (although minor) DC Comics villain. I simply haven't been able to figure out who he is yet. With the spears he uses he seems a little bit like Javelin, but their costumes are distinct and this unidentified villain doesn't throw anything. This villain held his two weapons firmly in each hand. He didn't demonstrate any actual super powers. He apparently only had these weapons and some modicum of fighting skill, although Batman was able to knock him out of the fight in short order.
The colors in his costume resemble Catman's costume in some ways, but Catman is a different villain in this same army, so this character clearly isn't Catman.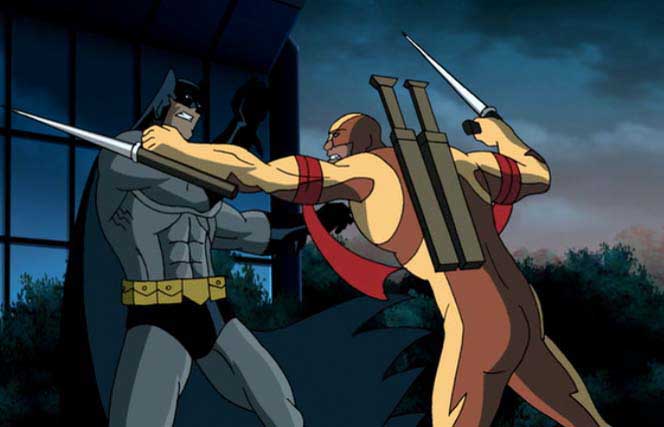 This character is in the following story which has been indexed by this website:

Superman/Batman: Public Enemies (2009)
(cameo)

Suggested links for further research about this character:
- http://en.wikipedia.org/wiki/Superman/Batman_Public_Enemies
- http://www.imdb.com/title/tt1398941/
- http://comicbookdb.com/storyarc.php?ID=76