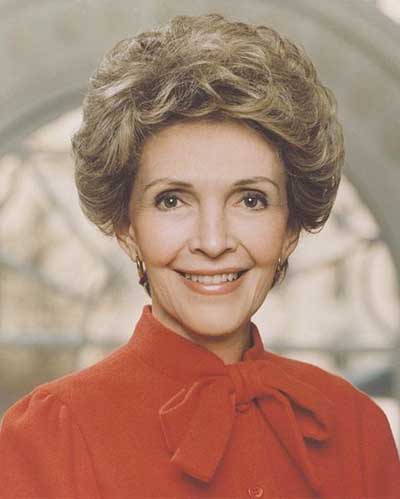 The Religious Affiliation of


Nancy Reagan


Religion: Presbyterian

Name: Nancy Reagan
Other Names: Nancy Davis Reagan; Anne Frances Robbins; Nancy Davis
Classification:

supporting character

real/historical person
Publisher(s):

Earliest Appearance Listed in This Database: The Ezio Pinza Show - Season 1, Episode 19 (9 May 1952)
Number of Appearances: 138
Comic Book Appearances: 24
TV, Film Appearances: 6
TV, Film Appearances As Herself: 108
Ally: Ronald Regan
Occupation: actress
Birth Place: Queens, New York City, New York, USA
Gender: female
Note: First Lady; President Reagan's wife
In Captain America (vol. 1) #344, President Ronald Reagan and First Lady Nancy Reagan were subjected to a serum created by the villainous nihilist Viper. The serum temporarily turned them into "Snake Men" (or, in Mrs. Reagan's case, a "Snake Woman").
This character is in the following 5 stories which have been indexed by this website:

AFI Life Achievement Award: A Tribute to John Ford (1973)

The Avengers (vol. 1) #246 (Aug. 1984): "Gatherings"

Captain America

The Ezio Pinza Show - Season 1, Episode 19 (9 May 1952)

Suggested links for further research about this character and the character's religious affiliation:
- http://en.wikipedia.org/wiki/Nancy_Reagan
- http://www.comicvine.com/nancy-reagan/29-29890/
- http://www.imdb.com/character/ch0033222/
- http://www.imdb.com/name/nm0004864/
- http://www.marvunapp.com/master/rbrec.htm
- https://www.comics.org/issue/38989/
- http://marvel.wikia.com/Avengers_Vol_1_246
- http://comicbookdb.com/issue.php?ID=23008
- http://www.marvunapp.com/master/fir.htm
- http://www.marvunapp.com/master/sn.htm