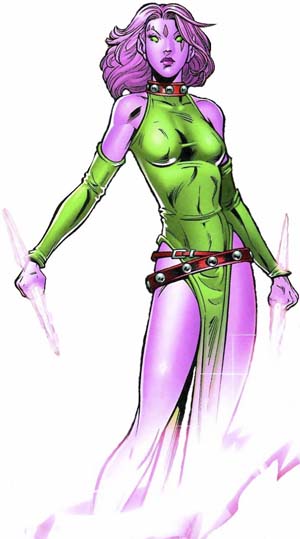 Blink


Clarice Ferguson

Religion: not determined yet

Name: Blink

Alter Ego: Clarice Ferguson

Classification:

hero
Publisher(s):

First Appearance: X-Men: Alpha #1 (Feb. 1995): "Beginnings..."
First Appearance (Additional Details): (original Earth-616 version that this "Blink" was based on) The Uncanny X-Men (vol. 1) #317 (Oct. 1994): "The Phalanx Covenant - Generation Next Part Three: Enter Freely And Of Your Own Will"; ("Age of Apocalypse" Blink/Exiles member) X-Men: Alpha #1 (Feb. 1995): "Beginnings..."
Creators: Scott Lobdell, Mark Waid, Roger Cruz, Steve Epting, Tim Townsend, Dan Panosian
Super? (Has Super Powers/Special Abilities/Technology): Yes
Number of Appearances: 110
Teams/Affiliations: The Exiles; X-Men
Ally: Sabretooth
Birth Place: Cartusia, Bahamas
Gender: female
Note: member of X-Men in Age of Apocalypse timeline
This record is for Blink from the Age of Apocalypse, also known as Earth-295.
Because the mainstream Marvel Earth ("Earth-616") version of this character (an original albeit short-lived member of "Generation X") and the prominently featured Age of Apocalypse Blink (who went on to become a mainstay of the Exiles) have such radically different histories, this is a rare instance in which we have split two other-dimensional versions of the same character into two separate records.
This character is in the following 9 stories which have been indexed by this website:

The Amazing X-Men #4 (June 1995): "On Concencrated Ground"

Blink

Exiles (vol. 1) #10 (Apr. 2002): "A World Apart: Part 3"

X-Men (vol. 2) #56 (Sep. 1996): "The Beginning of the End: Twilight of the Gods"
(cameo)

X-Men Unlimited (vol. 1) #41 (Mar. 2003): "Exiles"

X-Men: Alpha #1 (Feb. 1995): "Beginnings..."

Suggested links for further research about this character:
- http://marvel.wikia.com/Clarice_Ferguson_(Earth-295)
- http://en.wikipedia.org/wiki/Blink_(comics)
- http://comicbookdb.com/character.php?ID=1681
- http://www.marvunapp.com/master/blbblon.htm
- http://www.comicboards.com/marvelguide/dimensions.html
- http://www.comicboards.com/marvelguide/ageofapocalypse.html