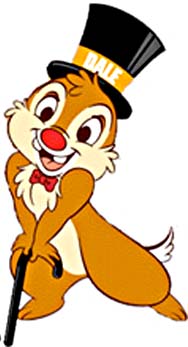 The Religious Affiliation of


Dale


Religion: anthropomorphic animal

Name: Dale
Other Names: Taku; Chip 'n Dale; Chip and Dale
Classification:

supporting character

lead character
Publisher(s):


RKO Radio Pictures

First Appearance: Private Pluto (1943)
First Appearance (Additional Details): (comic book) Walt Disney's Comics and Stories #69 (June 1946)
Creators: , Dessie Flynn (actor)
Number of Appearances: 766
Comic Book Appearances: 710
TV, Film Appearances: 53
Video Game, Computer Game Appearances: 3
Teams/Affiliations: Rescue Rangers
Ally: Chip
Species: chipmunk
Gender: male
Note: of famed "Chip 'n Dale" chipmunk duo; has 2 gapped teeth
Chip and Dale look very similar. But Chip has one tooth while Dale has two teeth with a gap between them. Disney described Chip as the logical schemer and Dale as the dumb schemer. Originally their noses were the same color. But later, to help distinguish them visually, Chip was illustrated with a black nose and Dale's nose was colored red.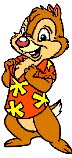 This character is in the following story which has been indexed by this website:

Private Pluto (1943)

Suggested links for further research about this character and the character's religious affiliation:
- http://en.wikipedia.org/wiki/Chip_'n_Dale
- http://www.imdb.com/character/ch0029145/
- http://comicbookdb.com/character.php?ID=17624
- http://www.comicvine.com/dale/29-4586/
- http://en.wikipedia.org/wiki/Private_Pluto
- http://www.imdb.com/title/tt0036278/
- http://www.comicvine.com/walt-disneys-comics-and-stories-/37-137466/