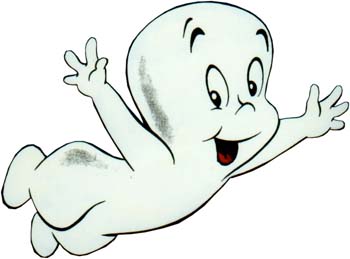 The Religious Affiliation of


Casper the Friendly Ghost


Casper McFadden

Religion: ghost

Name: Casper the Friendly Ghost
Alter Ego: Casper McFadden
Other Names: Casper; The Friendly Ghost; Casper on Screen
Classification:

lead character
First Appearance: The Friendly Ghost (1939 children's book); (film) The Friendly Ghost (1945 animated short film)
Creators: Seymour Reit, Joe Oriolo
Super? (Has Super Powers/Special Abilities/Technology): Yes
Number of Appearances: 772
Comic Book Appearances: 701
TV, Film Appearances: 70
Video Game, Computer Game Appearances: 1
Gender: male
According to some sources, the character Casper the Friendly Ghost was created by Seymour Reit and Joe Oriolo. Their friendly ghost character was featured in a children's book titled The Friendly Ghost published in 1939 and a same-titled animated film in 1945.
Yet the IMDb.com (Internet Movie Database) listing for the Casper character lists his first film as being the animated silent short film Fooling Casper, which was directed by Earl Montgomery. Casper's part was played by actor Bud Duncan. This film was released in 1928, a full eleven years before the Reit/Oriolo book was published. This character named Casper was featured in at least 12 animated short films released in 1928 and 1928, according to IMDb.com. In all of these, Bud Duncan played Casper. In looking a little more closely at these, it seems that this is a different "Casper." The Casper portrayed by actor Bud Duncan was one of the main characters in a series of "Toot and Casper" comedy films. Casper was the husband in a comedic husband and wife duo. IMDb.com's charater page for Casper the Friendly Ghost simply includes this other "Casper" erroneously. The "Toot and Casper" films weren't even animated.
This character is in the following 15 stories which have been indexed by this website:

Casper the Friendly Ghost

The Friendly Ghost, Casper

Little Boo-Peep (1953)
(lead character)

Little Dot (vol. 1) #69 (June 1961): "School Bus Safety"
(lead character)

Little Lotta in Foodland #26 (May 1971): "Harvey Comics 1971 Calendar"

The Magic Land of Mother Goose (1967)
(mentioned)

Once Upon a Rhyme (1950)
(lead character)

Richie Rich

Suggested links for further research about this character and the character's religious affiliation:
- http://en.wikipedia.org/wiki/Casper_the_Friendly_Ghost
- http://www.imdb.com/character/ch0136401/
- http://www.comicvine.com/casper/29-2743/
- http://comicbookdb.com/character.php?ID=14318
- http://www.imdb.com/title/tt0422266/