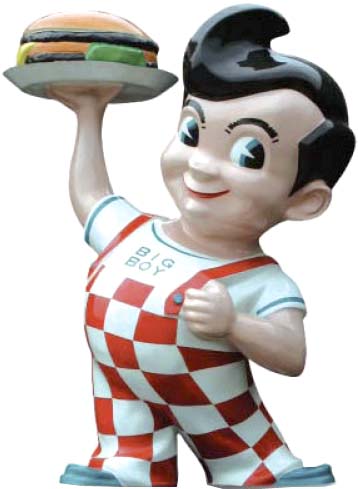 The Religious Affiliation of


Big Boy


Religion: loves hamburgers

Name: Big Boy
Other Names: Shoney's Big Boy; Bob's Big Boy; Kip's Big Boy; Frisch's Big Boy
Classification:

lead character

based on a real person
Publisher(s):

Webs Adventure Corporation; YOE! Studio
First Appearance: Big Boy Restaurants mascot/corporate logo (1939)
First Appearance (Additional Details): (comic book) Adventures of the Big Boy #1 (1956)
Creators: Benny Washam
Number of Appearances: 405
Enemy of: Simon Sneer
Romantic Interest: Dolly
Pet: Nugget
Occupation: mascot
Gender: male
Note: comic book version created by Stan Lee, Bill Everett
The "Big Boy" character was based on real-life boy Richard Woodruff.
Big Boy stars in The Adventures of Big Boy, which is a comic book that is used as a promotional giveaway to children visiting the restaurant chain he represents.
The first Big Boy comic book was written by Stan Lee and drawn by Bill Everett. Lee and Everett are known for (among other things) being the team that created Marvel's "Daredevil" character. Bill Everett also created Namor the Sub-Mariner.
This character is in the following 2 stories which have been indexed by this website:

Adventures of the Big Boy #1 (1956)
(lead character)

Big Boy Restaurants mascot/corporate logo (1939)
(lead character)

Suggested links for further research about this character and the character's religious affiliation:
- http://www.comicvine.com/big-boy/29-8480/
- http://en.wikipedia.org/wiki/Big_Boy_Restaurants
- http://www.aiga.org/content.cfm/big-deal-on-big-boy-street
- http://www.associatedcontent.com/article/391315/a_brief_history_of_big_boy_restaurants.html?cat=3
- http://www.bigboy.com
- http://comicbookdb.com/title.php?ID=9605