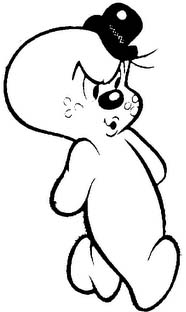 The Religious Affiliation of


Spooky


Religion: ghost

Name: Spooky
Other Names: Spooky the Tuff Little Ghost
Classification:

supporting character
Publisher(s):

First Appearance: Casper the Friendly Ghost #10 (June 1953)
Super? (Has Super Powers/Special Abilities/Technology): Yes
Number of Appearances: 393
Comic Book Appearances: 346
TV, Film Appearances: 47
Ally: Casper the Friendly Ghost
Ally: Pearl ("Poil")
Gender: male
The "The New Casper Cartoon Show" animated TV show ran from 1963 to 1969. This series had 26 episodes. The 1996 animated TV series "Casper" ran for at least 20 episodes, from 1996 to 1998. Actor Rob Paulson provided the voice of Spooky in that series. If Spooky was featured in every episode in these two TV series, that would be a total of 46 TV episodes he appeared in. However, although Spooky was a prominent supporting character in these TV series, we are not yet certain that Spooky was in ever episode. So his actual number of TV appearances may be lower than this.
Spooky was also a supporting character in the animated direct-to-video feature-length film Casper's Haunted Christmas (2000). The character's voice was provided by actor Sam Vincent in that film.
This character is in the following 5 stories which have been indexed by this website:

Casper the Friendly Ghost #10 (June 1953)

The Friendly Ghost, Casper

Little Lotta in Foodland #26 (May 1971): "Harvey Comics 1971 Calendar"

Suggested links for further research about this character and the character's religious affiliation:
- http://en.wikipedia.org/wiki/Spooky_the_Tuff_Little_Ghost
- http://www.toonopedia.com/spooky.htm
- http://home.att.net/~thft/spooky.htm
- http://www.comicvine.com/spooky/29-9744/
- http://comicbookdb.com/character.php?ID=14316
- https://www.comics.org/issue/236864/
- http://www.imdb.com/title/tt0244914/
- http://www.imdb.com/title/tt0115128/
- http://www.tv.com/the-new-casper-cartoon-show/show/22276/episode.html
- http://www.imdb.com/title/tt0284946/