Mrs. Reid


Religion: not determined yet

Name: Mrs. Reid

Classification:

supporting character
Publisher(s):

First Appearance: Mars #1 (Jan. 1984): "Rebirth"
Creators: Mark Wheatley, Marc Hempel
Number of Appearances: 1
Ally: Tommy Reid
Ally: David Reid
Gender: female
Note: Dr. Nathan Trace used experimental procedure on her son
David Reid was the father of Tommy Reid. After there was a severe setback in an attempt to cure David Reid's son Tommy, Mr. Reid blamed Dr. Trace.
In anger, David Reid stormed into a press conference where Dr. Trace was speaking about Tommy's condition. Mrs. Reid was with her husband, David. Mrs. Reid knew her husband was enraged and that he planned to hurt Dr. Nathan Trace. She strenuously tried to persuade him to stop him. She physically tried to stop her husband, but he pushed her away. David Reid shot Dr. Trace, killing him. David Reid also show Dr. Trace's assistant (and daughter), Morgana Trace, paralyzing her.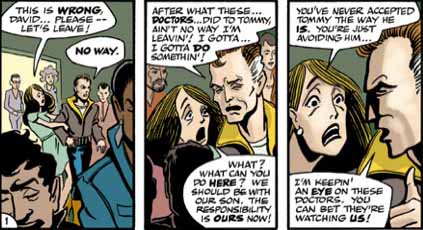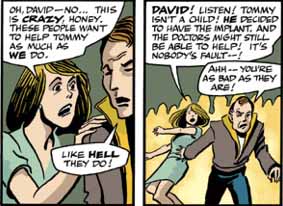 This character is in the following story which has been indexed by this website:

Mars #1 (Jan. 1984): "Rebirth"

Suggested links for further research about this character:
- http://www.insightstudiosgroup.com/MARS/WEB/
- http://www.atomicavenue.com/atomic/titledetail.aspx?TitleID=9479
- https://www.comics.org/issue/38196/
- http://www.comicvine.com/mars-rebirth/37-23857/
- http://comicbookdb.com/issue.php?ID=58189