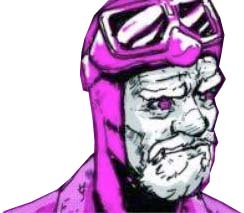 Pirate Gladiator Oceanographer


Yashitiko Ammo

Religion: not determined yet

Name: Pirate Gladiator Oceanographer

Alter Ego: Yashitiko Ammo

Other Names: Blackhat William Shaw; Proximo Aurelius Gaius; Garreth Crittenden-Southgate

Classification:

villain
Publisher(s):

Shadowline
First Appearance: Cowboy Ninja Viking #1 (Oct. 2009)
Creators: A.J. Lieberman, Riley Rossmo
Number of Appearances: 4
Teams/Affiliations: Triplets
Enemy of: Cowboy Ninja Viking
Occupation: assassin
Nation: Japan
Race: Asian
Gender: male
Note: has multiple personality disorder
Yashitiko Ammo is one of many "Triplets" who have multiple personality disorder and are highly trained. Cowboy Ninja Viking was sent to capture Yashitiko Ammo (known as "Pirate Gladiator Oceanographer" because of his three distinct personalities).
This character is in the following story which has been indexed by this website:

Cowboy Ninja Viking #1 (Oct. 2009)

Suggested links for further research about this character:
- http://www.comicvine.com/pirate-gladiator-oceanographer/29-68145/
- http://comicbookdb.com/character.php?ID=36218
- http://comicbookdb.com/team.php?ID=2254
- http://comicbookdb.com/issue.php?ID=182503
- http://www.comicvine.com/cowboy-ninja-viking-/37-177699/