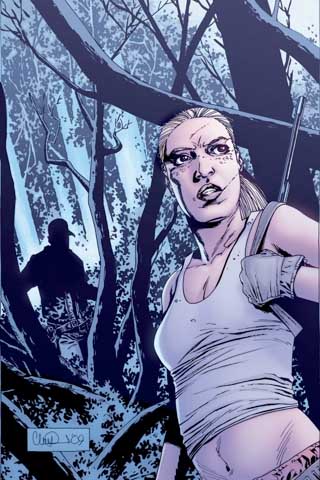 Andrea


Religion: not determined yet

Name: Andrea

Classification:

supporting character
Publisher(s):

First Appearance: The Walking Dead #2 (Oct. 2003): "Days Gone Bye, Part 2"
Creators: Robert Kirkman, Tony Moore
Number of Appearances: 56
Teams/Affiliations: Rick's zombie apocalypse survivor group
Enemy of: zombies
Employer: law firm
Allies: Rick Grimes, Lori Grimes, Carl Grimes, Glenn Rhee, Shane Walsh
Family/Relatives: Amy (sister), Andrea and Amy's father (father), Andrea and Amy's mother (mother)
Occupation: clerk
Location: Atlanta, Georgia, USA
Gender: female
Note: Amy's sister; long-time survivor of zombie attacks
Andrea is an excellent sniper. She is widely regarded as the best shot among the survivors at the Grimes camp. She helped teach others how to shoot so that they could defend themselves against zombies.
We have seen a few secondary indexing sources which indicate that Amy appears in this issue. This is incorrect. In the first panel on the last page (page 22) in this issue, a blonde woman appears in the background. Her face can hardly be seen, but her outfit (a sweater and collar shirt) can be discerned. In the next issue, Rick Grimes is introduced to the sisters Amy and Andrea. In this issue (#3) and subsequent issues, it can be seen that it is Andrea, and not Amy, who is wearing this outfit.
Amy does not appear at all in The Walking Dead #2. She first appears in issue #2. A tiny image of Andrea appears in one panel in The Walking Dead #2.
Excerpts
BELOW: Dale talks to Rick and Shane about his living situation with Amy and Andrea, pointing out that he's not doing anything with them, despite Donna's suspicions and religious objections: Whatever Donna might suspect is happening in Dale's RV, it seems unlikely at this point that her suspicions are correct. Dale, whose wife died about 6 to 7 weeks previous, is indeed living with two young women (Amy, who is 19, and Andrea who is 26). But he tells Rick and Shane that they're "not doing anything" (meaning that they are not doing any sexual, i.e., fornication, which is Donna's apparent concern).
Rick: Lori tells me Donna just won't shut up about you and the girls living together in that camper. She started right after we got back from target practice a couple days ago and hasn't let up since. Pretty much the only thing she's talked to me about since I let Carl start practicing with us.

Dale: Donna ain't shown a lick of gratitude for my saving her life. I don't see how Allen puts up with her.

Shane: Those poor boys... Think about how she's going to be raising them twins.

Rick: Y'know, I figure you've earned the right to have two pretty young women keep you company. Without all your camping gear, we'd be screwed.

Dale: C'mon guys... I'm not doing anything with those girls. To be honest, I'm an old man... My plumbing ain't what it used to be. It's just-- after losing my wife not two months ago... It's nice having them around. They keep the place clean... Remind me of what it was like with her around.

Rick: You don't have to explain yourselves to us... It's your business. Donna's just an old housewife who doesn't have soap operas to keep her small mind occupied. Don't let her get to you.
Source: The Walking Dead #5 (Feb. 2004): "Days Gone Bye, Part 5", pg. 8, panels 1-5. Written by Robert Kirkman. Art by Tony Moore. See also: sexual morality; judging others; Rick Grimes; Dale Horvath; Amy; Andrea; Shane Walsh; Donna
BELOW: Donna doesn't approve of Dale's relationship with Andrea (apparently on religious grounds), but she is happy to see them find some happiness together. A few weeks ago, Donna said it was "unChristian" the way Dale "carried on" with Amy and Andrea. She complained to the other women in the group about Dale's living situation with two young women who is wasn't married to. A few weeks later after hard living in a zombie apocalypse, Donna appears to have softened her stance, although she still has reservations, apparently on religious grounds. Donna and the group of survivors find a nice subdivision called Wilshire Estates and they decide to stay the night in one of the abandoned homes. While delivering extra blankets to people, Donna catches Dale and Andrea alone together in a room, almost entirely undressed, clearly being romantically intimate with each other. Rather than protesting as one might have expected her to do based on her previous behavior, Donna smiles and tells her husband that it is nice to see people happy together, although she still doesn't approve of them.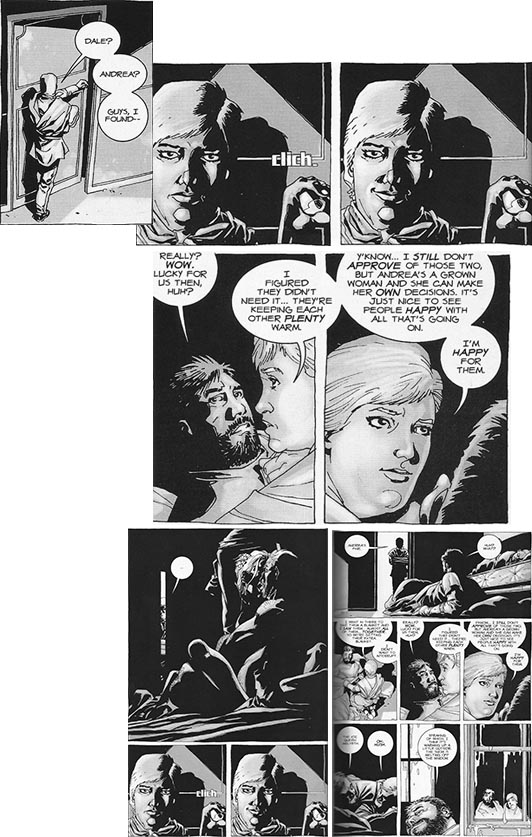 Donna: [opening the door to a darkened room] Dale? Andrea? Guys, I found-- [sees Dale being intimate with Andrea]

Donna: [talking to her husband after returning to her own family's room] Andrea's fine. Huh? What? I went in there to give them a blanket and I saw them... Almost all of them... together. So we're getting their extra blanket. I didn't want to interrupt.

Allen: Really? Wow. Lucky for us, then, huh?

Donna: I figured they didn't need it... They're keeping each other plenty warm.

Y'know... I still don't approve of those two, but Andrea's a grown woman and she can make her own decisions. It's just nice to see people happy with all that's going on. I'm happy for them.

Allen: The ice queen melteth.

Donna: Oh, hush.
Source: The Walking Dead #8 (May 2004): "Miles Behind Us, Part 2", pg. 19-21. Written by Robert Kirkman. Art by Charlie Adlard. See also: sexual morality; Christian (denomination unknown); Dale Horvath; Andrea; Donna
BELOW: After Andrea's sister Amy is killed by zombies, the survivors bury her and mark her grave with a simple cross made from sticks: Andrea kneels at her sister's grave site throughout the simple funeral ceremony the survivors conduct.
Source: The Walking Dead #6 (Mar. 2004): "Days Gone Bye, Part 6", pg. 1-3. Written by Robert Kirkman. Art by Tony Moore. See also: cross; kneeling; Amy; Andrea
BELOW: Rick decides that his group of survivors should not observe Christmas this year:

Dale: Oh, and one more thing... Andrea's been keeping track of days since this whole thing went down. Unless she's messed up along the way-- tomorrow is Christmas.

Rick: Don't tell anyone! Do you hear me? I don't want anyone to know. I don't want to have to explain to my son that on top of all this other sh--... Santa can't find him. Let's just skip Christmas this year, okay? I don't want to upset the kids.

Dale: Okay... Understood.
Source: The Walking Dead #7 (Apr. 2004): "Miles Behind Us, Part 1", pg. 7, panels 6-7. Written by Robert Kirkman. Art by Charlie Adlard. See also: Christmas; Rick Grimes; Dale Horvath; Andrea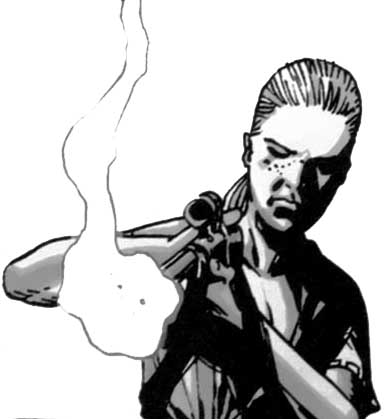 This character is in the following 12 stories which have been indexed by this website:

The Walking Dead

Suggested links for further research about this character:
- http://www.comicvine.com/andrea/29-58879/
- http://comicbookdb.com/character.php?ID=22045
- http://comicbookdb.com/issue.php?ID=1974
- http://www.comicvine.com/the-walking-dead-/37-106774/
- https://www.comics.org/issue/260205/
- http://www.comicvine.com/the-walking-dead-/37-106775/
- http://imagecomics.wikia.com/wiki/The_Walking_Dead_Vol_1_3