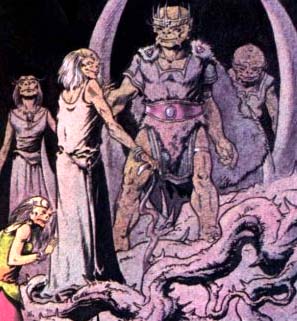 Rock Trolls


Religion: Norse/Teutonic paganism

Name: Rock Trolls
Other Names: Trolls; Asgardian Trolls
Classification:

villains
Publisher(s):

First Appearance: Journey into Mystery (vol. 1) #99 (Dec. 1963): "Surtur the Fire Demon!"
Creators: Stan Lee, Jack Kirby, George Roussos
Number of Appearances: 46
Foe of: Thor
Planet: Asgard, The Nine Worlds
The so-called "Trolls of Jicarilla" were a group of Rock Trolls who invaded Earth by way of an abandoned mine shaft in Jicarilla, New Mexico. They fought the Defenders.
Number of group members listed below: 2
Character
(Click links for info about character
and his/her religious practice, affiliation, etc.)
Religious
Affiliation
Team(s)


[Notes]

Pub.
#
app.
[

]

46
Rock Trolls
[Trolls of Isle of Silence]
4

This character is in the following 9 stories which have been indexed by this website:

The Avengers (vol. 1) #1 (Sep. 1963): "The Coming of the Avengers!"
(5-panel cameo)

Babes in Toyland (1986)

Captain America (vol. 1) #176 (Aug. 1974): "Captain America Must Die!"
(1-panel cameo)

The Defenders (vol. 1) #139 (Jan. 1985): "Hungry Like the Wolf!"

Marvel Knights

Thor (vol. 1) #136 (Jan. 1967): "To Become An Immortal!"

Suggested links for further research about this character and the character's religious affiliation:
- http://marvel.wikia.com/Rock_Trolls
- http://www.comicbookdb.com/team.php?ID=2134
- http://www.comicvine.com/rock-trolls/65-57742/
- http://www.marvunapp.com/master/tritrz.htm
- http://www.comics.org/issue/18056/
- http://www.comicbookdb.com/issue.php?ID=57564
- http://marvel.wikia.com/Journey_Into_Mystery_Vol_1_99
- http://www.comicvine.com/journey-into-mystery-the-mysterious-mister-hyde/37-6827/