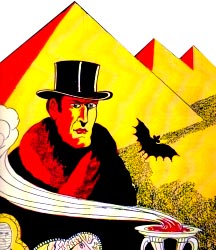 The Religious Affiliation of


Krakos the Egyptian


Krakos

Religion: Egyptian classical religion

Name: Krakos the Egyptian
Alter Ego: Krakos
Classification:

hero
Publisher(s): Gerald G. Swan
First Appearance: New Funnies (1941)
Creators: William A. Ward
Super? (Has Super Powers/Special Abilities/Technology): Yes
Number of Appearances: 48
Gender: male
An elderly Egyptian man burned sacred herbs in the hidden temple of Tanis, transforming himself into a super-powered younger man, who then travelled to London to fight the Nazis. In London he was met by his servant, Yusef, and he begins to fight crime in the foggy streets of the capital.
Krakos the Egyptian appeared in New Funnies in 1941 (published in the United Kingdom by Gerald G. Swan Ltd.) and in Thrill Comics from 1941 to 44.