The Religious Affiliation of


N'Garai


Religion: demons

Name: N'Garai
Other Names: The Dark Gods; Elder Gods; The Dark Ones
Classification:

villains

group
Publisher(s):

First Appearance: X-Men (vol. 1) #96 (Dec. 1975): "Night of the Demon!"
Creators: Bill Mantlo, Chris Claremont, Dave Cockrum, Sam Grainger
Super? (Has Super Powers/Special Abilities/Technology): Yes
Number of Appearances: 17
Type of Organization/Group: alien race
The N'Gari are a race of ancient extra-dimensional demons. The N'Gari race of demons is not identical to the Elder Gods, but there may be some connection between these two groups. On occasion, the N'Gari have been mistakenly referred to as the "Elder Gods."
Number of group members listed below: 2
Character
(Click links for info about character
and his/her religious practice, affiliation, etc.)
Religious
Affiliation
Team(s)


[Notes]

Pub.
#
app.

| | |
| --- | --- |
| | demon |

N'Garai
[demonic entity]
6
[1st app: X-Men (vol. 1) #96 (Dec. 1975)]
17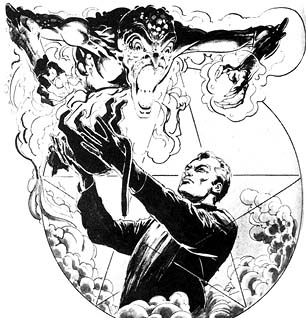 This character is in the following 16 stories which have been indexed by this website:

Doctor Strange

Magik

Marvel Preview #7 (Summer 1976): "The Sword in the Star!: Stave 2: Witchworld!"
(behind the scenes)

The Uncanny X-Men (vol. 1) #160 (Aug. 1982): "Chutes and Ladders!"
(mentioned)

X-Men

X-Men: Black Sun

Suggested links for further research about this character and the character's religious affiliation:
- http://www.marvunapp.com/Appendix2/ngaraidemons.htm
- http://marvel.wikia.com/N'Garai
- http://www.comicvine.com/ngarai/4060-57767/
- http://comicbookdb.com/team.php?ID=1084
- http://www.marvunapp.com/master/nesnh.htm
- http://www.marvunapp.com/master/darkddkm.htm
- https://www.comics.org/issue/29344/
- http://www.comiccollectorlive.com/LiveData/Character.aspx?id=ffdd80a7-62be-4c65-bf07-082fb129335f
- http://www.comicbookdb.com/issue.php?ID=3092
- http://marvel.wikia.com/X-Men_Vol_1_96