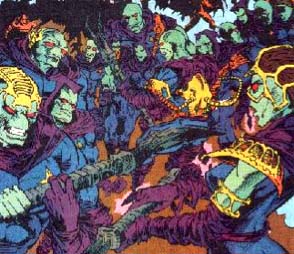 The Religious Affiliation of


Mindspawn


Religion: alien

Name: Mindspawn
Classification:

villains

group
Publisher(s):

First Appearance: Sleepwalker #22 (Mar. 1993): "Mindfield! Part 4: Beyond Life and Death"
Creators: Bob Budiansky, Kelly Krantz, John Lowe
Super? (Has Super Powers/Special Abilities/Technology): Yes
Number of Appearances: 10
Enemy of: Sleepwalker, Bad Ideas
Type of Organization/Group: alien race
Dimension: Mindscape
Note: posed as Sleepwalkers
The Mindspawn are an alien race that dwell in the Mindscape. They have posed as Sleepwalkers, but are actually enemies of the Sleepwalkers.
The Mindspawn use Mindrakes in order to drain thoughts from others.
Number of group members listed below: 8
Character
(Click links for info about character
and his/her religious practice, affiliation, etc.)
Religious
Affiliation
Team(s)


[Notes]

Pub.
#
app.
Mindspawn
1
Mindspawn
6
Mindspawn
1

[posed as Sleepwalkers]

10
Mindspawn
[eventually merged with human to form "Psyko"]
8
Mindspawn
[large male with head ornaments]
6
Mindspawn
[has orange hair]
6
Mindspawn
[has brown hair]
6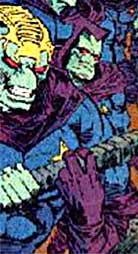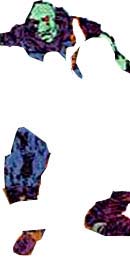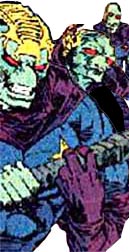 Suggested links for further research about this character and the character's religious affiliation:
- http://www.marvunapp.com/Appendix3/mindscap.htm#Mindspawn
- http://www.marvunapp.com/master/minmiss.htm
- https://www.comics.org/issue/69714
- http://comicbookdb.com/issue.php?ID=74879
- http://marvel.wikia.com/Sleepwalker_Vol_1_22
- http://www.comicvine.com/sleepwalker-mindfield-part-4-beyond-life-and-death/37-52027/
- https://www.comics.org/issue/69715