Religion: Protestant; mutant supremacist

(mutant supremacist)

(Protestant)
Name: Cyclops
Alter Ego: Scott Summers
Other Names: Scott "Slim" Summers; Slim Summers; Cyke; Erik the Red; Slym Dayspring; Mutate #007; Cyclops III; Prelate Summers; Scottius Summerisle; Scott Sommers
Classification:

hero
Publisher(s):

First Appearance: The X-Men (vol. 1) #1 (Sep. 1963): "X-Men"
Creators: Stan Lee, Jack Kirby, Paul Reinman
Super? (Has Super Powers/Special Abilities/Technology): Yes
Number of Appearances: 8,371
Comic Book Appearances: 8,232
TV, Film Appearances: 127
Video Game, Computer Game Appearances: 12
Teams/Affiliations: Brotherhood of Mutant Supremacy; Summers Rebellion; The Twelve; X-Factor; X-Men
Occupation: headmaster, radio announcer, student
Birth Place: Anchorage, Alaska, USA
Race: white
Gender: male
BELOW: Although "Cyclops" here is actually the villain Donald Pierce in disguise, his words fairly accurately reflect the brand of often strident "mutant survivalism" and sometimes even mutant supremacy preached by Scott Summers. Here "Cyclops" explains why his followers may need to kill the former New Mutants so that mutantkind can avoid persecution, prejudice and extinction.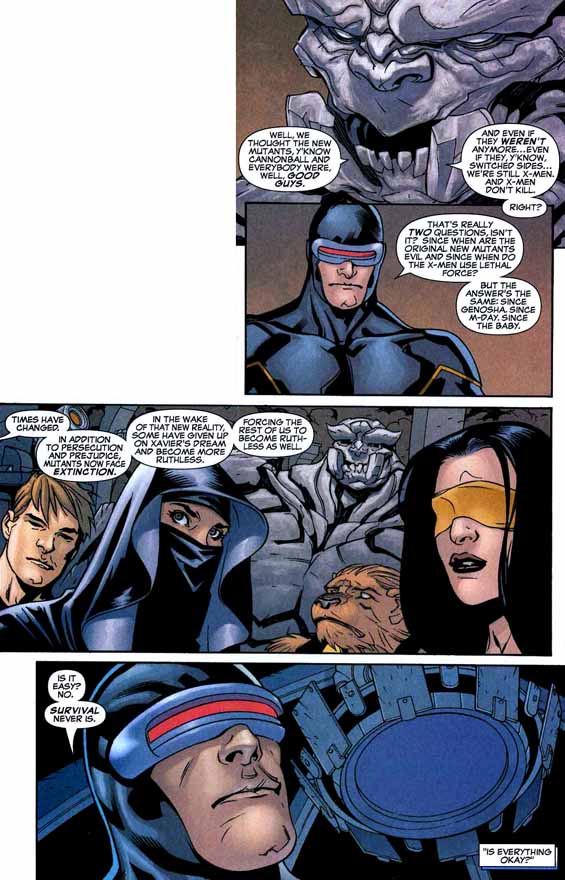 Source: Young X-Men #2 (July 2008): "New Mutants", pg. 9, panels 2-5. Written by Marc Guggenheim. Art by Ray Snyder, Yanick Paquette. See also: prejudice; persecution; survival; mutant supremacist; Cyclops (Scott Summers)