Ray


Religion: indeterminate

Name: Ray

Classification:

supporting character
Publisher(s):

First Appearance: Marvel Knights 4 #3 (May 2004): "Wolf at the Door: Part 3"
Creators: Roberto Aguirre-Sacasa, Steve McNiven, Mark Morales
Number of Appearances: 1
Employer: Ray's Pizza
Employer: Pizza Time
Occupation: business owner, restaurateur
Location: New York City, New York, USA
Gender: male
The narration text in panel 1 on page 12 in Marvel Knights 4 #3 reads: "On the corner of 42nd and Madison, on his way back to the Baxter Building from Ray's Pizza, Johnny Storm is having an epiphany."
Interestingly enough, the narrative text refers to "Ray's Pizza," but the pizza boxes in the accompanying panel illustration are labelled with the name "Pizza Time."
It is quite possible that a man named "Ray" is the proprietor of a New York City pizza establishment that is now called "Pizza Time." Johnny Storm (or the narrator) may remember when the place was called "Ray's Pizza." This pizza joint may still be known by names. Or perhaps Johnny Storm really did pick up pizza from a place that is currently called "Ray's Pizza," but the at Ray's Pizza they were using "Pizza Time" boxes for some reason. Perhaps they are not big enough to purchase pizza boxes with their own name pre-printed on the box, so they purchase available boxes, even though they're mis-labeled.
Or perhaps the artist and writer simply weren't coordinated in this.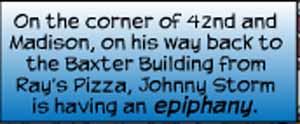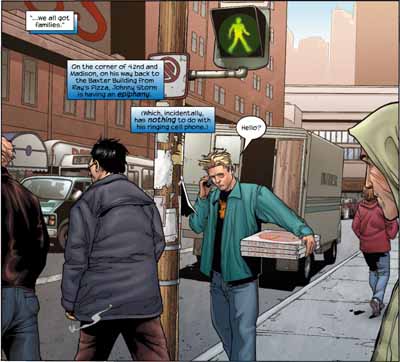 This character is in the following story which has been indexed by this website:

Marvel Knights 4 #3 (May 2004): "Wolf at the Door: Part 3"
(mentioned)

Suggested links for further research about this character:
- https://www.comics.org/issue/165624/
- http://comicbookdb.com/issue.php?ID=10528
- http://marvel.wikia.com/Marvel_Knights_4_Vol_1_3