Lucy Simms


Religion: indeterminate

Name: Lucy Simms

Other Names: Lucy

Classification:

supporting character
Publisher(s):

First Appearance: Marvel Knights 4 #4 (May 2004): "Wolf at the Door: Part 4"
Creators: Roberto Aguirre-Sacasa, Steve McNiven, Mark Morales
Number of Appearances: 2
Ally: Martin Simms
Ally: Jeremy Simms
Location: California, USA; New York City, New York, USA
Gender: female
Note: ex-wife of would-be suicide jumper Mr. Fantastic saved
Jeremy Simms was a 16-year-old who died in a car crash along with his friends who were in the car. His death was hard for his parents (Martin and Lucy Simms) to take, and they divorced six months later. Lucy moved to California and had no further contact with her ex-husband.
Jeremy's father, Martin, ended up so depressed that he climbed out on a ledge to kill himself. Reed Richards (a.k.a. Mr. Fantastic) was working temporarily in a law office in the same building. Richards climbed up the building and talked Martin out of killing himself.
Martin told Reed Richards his depressing tale and why he wanted to die. Upon hearing this story, Reed thought of Martin's ex-wife and of his own wife, Susan Storm Richards.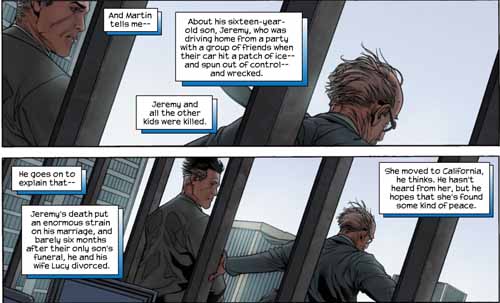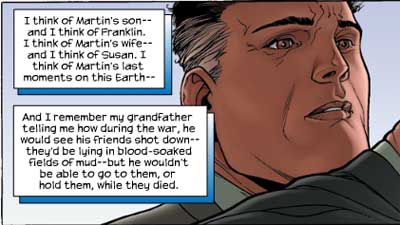 This character is in the following 2 stories which have been indexed by this website:

4 #28 (May 2006): "Private Lives, Public Faces"
(3-panel cameo)

Marvel Knights 4 #4 (May 2004): "Wolf at the Door: Part 4"
(mentioned)

Suggested links for further research about this character:
- http://www.marvunapp.com/master/simsir.htm
- https://www.comics.org/issue/165625/
- http://comicbookdb.com/issue.php?ID=10527
- http://marvel.wikia.com/Marvel_Knights_4_Vol_1_4
- http://marvel.wikia.com/Four_Vol_1_28