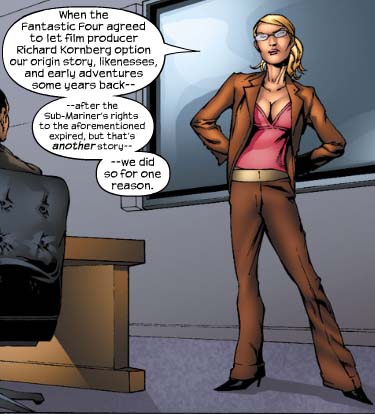 The Religious Affiliation of


Richard Kornberg


Religion: Jewish Catholic

Name: Richard Kornberg
Other Names: Kornberg, Richard
Classification:

supporting character

based on a real person
Publisher(s):

First Appearance: Marvel Knights 4 #19 (Aug. 2005): "Inhumane, Part 1: Runaways"
Creators: Roberto Aguirre-Sacasa, Valentine DeLandro, Matt Banning, Derek Fridolfs
Number of Appearances: 1
Occupation: film producer
Gender: male
Note: based on Roger Corman; made cheap FF movie
Susan Storm Richards (a.k.a. the Invisible Woman) met with the Board of Directors of Fantastic Four Enterprises in Marvel Knights 4 #19. On pages 7 and 8 she expresses her opinion about the relationship between the Fantastic Four, their financial holdings company, and film producer Richard Kornberg: "When the Fantastic Four agreed to let film producer Richard Kornberg option our origin story, likenesses, and early adventures some years back -- after the Sub-Mariner's rights to the aforementioned expired, but that's another story -- we did so for one reason. Specifically, to increase Fantastic Enterprises' endowment from monies earned through licensing. School supplies, toys, toothbrushes, bedding... posters, lunchboxes, and the like. Said increased endowment would, in turn, be used to support my husband's medical and technical research, my social and cultural philanthropy, and the team's scientific adventuring... Despite my serious apprehensions about signing our lives away to Mr. Kornbeg, I was told that it was -- what was the phrase -- 'a complete no-brainer,' wasn't it? ...Which nevertheless prompted me to suggest to you, the Board, that perhaps we should hold out for a better offer -- from, say a major motion picture studio like Fox. You, in turn, assured me that Mr. Kornberg's option would only last two years; at which point, any and all rights to the Fantastic Four would revert back to us... And now -- now -- two years later, you're telling me that Mr. Kornberg's option is about to expire and that rather than let his Fantastic Four movie go unmade, he is... what? Rushing some sure-to-go-straight-to-DVD travesty into production? With an unfinished script, actors not even my brother's vapid girlfriend knows, and a budget that redefines the term 'shoe-string'? And what's worse -- apparently I'm the only one who's concerned about this?"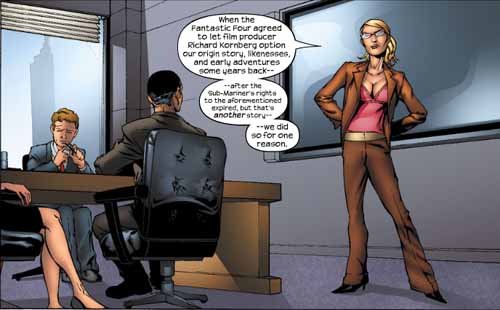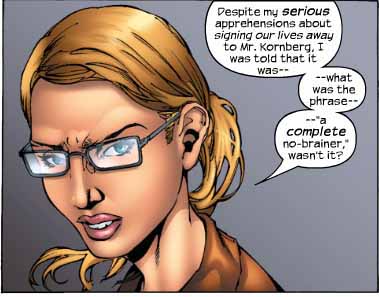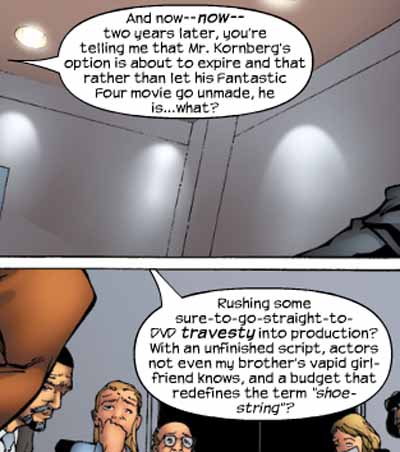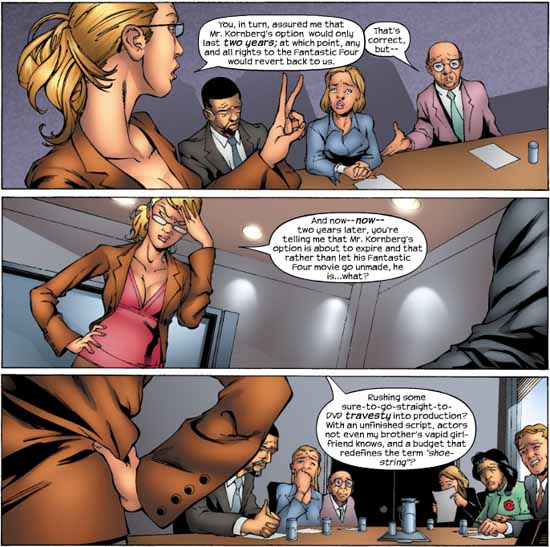 This character is in the following story which has been indexed by this website:

Marvel Knights 4 #19 (Aug. 2005): "Inhumane, Part 1: Runaways"
(mentioned)

Suggested links for further research about this character and the character's religious affiliation:
- http://www.marvunapp.com/master/ko.htm
- http://marvel.wikia.com/Marvel_Knights_4_Vol_1_19
- http://www.comicvine.com/marvel-knights-4-runaways-inhumane-part-1/37-131972/
- https://www.comics.org/issue/266232/
- http://comicbookdb.com/issue.php?ID=13965