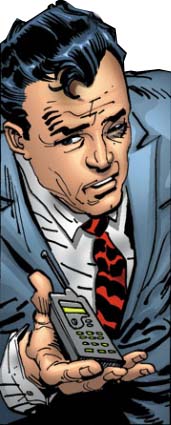 Mr. Dryden


Religion: not determined yet

Name: Mr. Dryden

Classification:

supporting character
Publisher(s):

First Appearance: Marvel Knights (vol. 1) #1 (July 2000): "The Burrowers"
Creators: Chuck Dixon, Eduardo Barreto, Klaus Janson
Number of Appearances: 3
Enemy of: Ulik
Occupation: businessperson, criminal
Worked for: Mr. Van Kline
Location: New York City, New York, USA
Gender: male
Mr. Dryden was seen on the last two pages of Marvel Knights #1. He was tied up and beaten somewhat by the powerful troll Ulik, who was forcing him to reveal the location of the Raganahorn, also known as the Left Horn of Auohumla.
Mr. Dryden's name was not revealed until the next issue, in which he visited the penthouse home and office of Mr. Van Kline, the owner of the horn, to tell him that Ulik wanted it.
Mr. Dryden's eye was swollen from what Ulik had done to him, but he actually seemed reasonably health considering what the massive Rock Troll could have done to him. Ulik clearly wanted Dryden well enough that he could travel and deliver a message. Dryden was deathly afraid of Ulik not so much because of what Ulik did to him but because of what he knew Ulik could do him, his employer Mr. Van Kline, and the rest of New York City.
Mr. Dryden claimed to be a businessman, but Ulik believed he was a criminal. Mr. Dryden may have had mob connections or been a full-fledged mob member. The truth of the matter was never made entirely clear. Ulik didn't really care. He just wanted to track down the Raganahorn.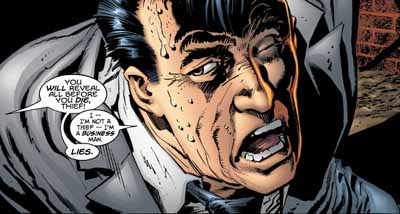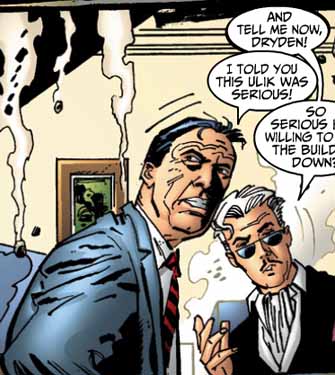 This character is in the following 3 stories which have been indexed by this website:

Marvel Knights

Suggested links for further research about this character:
- https://www.comics.org/issue/86086/
- http://comicbookdb.com/issue.php?ID=9207
- http://marvel.wikia.com/Marvel_Knights_Vol_1_1
- http://www.comicvine.com/marvel-knights-the-burrowers/37-66972/