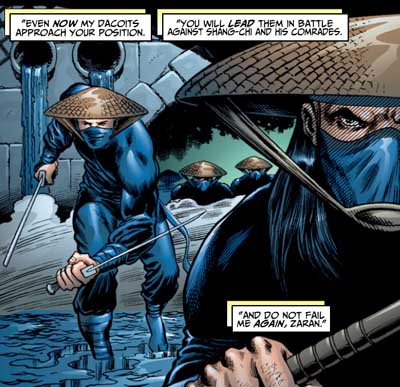 The Religious Affiliation of


Dacoits


Religion: Cult of Kali (Dacoits)

Name: Dacoits
Other Names: Dakoits; Dacoits of Death; Dacoity
Classification:

villains

group
Publisher(s): Methuen & Co. Ltd.
First Appearance: The Mystery of Dr. Fu-Manchu (1913) - book 1 in Fu Manchu series
First Appearance (Additional Details): (comics) Master of Kung Fu #18 (June 1974): "Attack!"
Creators: Sax Rohmer
Number of Appearances: 13
Comic Book Appearances: 7
Prose/Text Book/Story Appearances: 6
Teams/Affiliations: Order of the Golden Dawn; Si-Fan
Enemy of: Luke Cage, Iron Fist, Shang-Chi
Ally: Fu Manchu
Type of Organization/Group: assassin
Nation: Burma
Note: worship Durga (an aspect of Kali)
The Dacoits are a centuries-old religious group based in Burma (or "Myanmar"). They are routinely referred to as a "Burmese assassin cult." The religious aspect of this group is not tangential or incidental. They are, at their core, a highly dedicated religious group.
The Dacoits can be classified as a sub-sect of the "Cult of Kali." They are worshipers of the Hindu death goddess Kali. Specifically, they worship Durga, an aspect of Kali. Durga is a goddess of war.
Traditionally, the Dacoits wear a distinctive costume. They are typically bare-chested. They wear masks over the lower half of their faces. Their weapon of choice is a curved blade. They communicate via a distinctive code which sounds like the cries of wild animals.
Eventually the Dacoits came to be loyal to the villainous Fu Mancu, a Chinese warlord who has lived for centuries. Perhaps the Dacoits were originally founded by Fu Manchu himself. The truth of the matter is not clear. The Dacoits came to belong to a broader group known as "Si-Fan," an umbrella categorization of numerous individuals and sub-groups which serve as assassins for Fu Manchu.
The Dacoits eventually joined with other similarly-evil assassin sects and groups in an organization known as the Order of the Golden Dawn. Although made up of diverse groups, many groups within the Order were also Kali worshipers.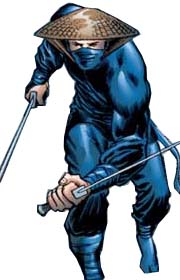 This character is in the following 5 stories which have been indexed by this website:

Marvel Knights

Master of Kung Fu #18 (June 1974): "Attack!"

The Mystery of Dr. Fu-Manchu (1913) - book 1 in Fu Manchu series

Suggested links for further research about this character and the character's religious affiliation:
- http://marvel.wikia.com/Dacoits_of_Death_(Earth-79816)
- http://www.marvunapp.com/master/daadal.htm
- http://www.marvunapp.com/master/cscx.htm
- http://www.marvunapp.com/master/siasik.htm
- http://www.marvunapp.com/master/or.htm
- http://www.marvunapp.com/Appendix3/ordergoldendawn.htm
- http://en.wikipedia.org/wiki/Dacoity