Spinach


Religion: not determined yet

Name: Spinach

Other Names: "the green-headed kid"

Classification:

villain

scientist
Publisher(s):

First Appearance: Marvel Double-Shot #1 (Jan. 2003): "Spinach"
Creators: Rob Haynes
Super? (Has Super Powers/Special Abilities/Technology): Yes
Number of Appearances: 1
Enemy of: The Hulk, Thunderbolt Ross
Occupation: entrepreneur, scientist
Gender: male
Note: tried to mass-market spray made from She-Hulk's blood
The man known only as "Spinach" was an entrepreneur and "mad scientist" who developed an inhaler (or nasal spray) that produced temporary superhuman strength in the user. In order to create the spray, Spinach stole a sample of blood from She-Hulk.
Spinach referred to himself as a "brilliant mixologist." He spoke of "better living through chemistry." He used his "product" on himself and it really did give him sufficient strength and durability that he was able to battle the Hulk, at least for a little while.
In order to publicize his new product, Spinach staged a fight with the Hulk. It was Spinach's belief that he could use video footage of the battle as part of an advertising campaign.
Of course, this product was very dangerous and it would be a terrible thing if such a product actually hit the mass market. General Thunderbolt Ross helped stop Spinach's crazy plan and destroy all of the video evidence of his battle with the Hulk.
General Ross was not at all pleased with what Spinach had done. From Ross's words and demeanor upon capturing Spinach, one can assume that Ross intended to keep the man locked up for a long time.
Excerpts
BELOW: Spinach was simply greedy: The "brilliant mixologist" known only as "Spinach" successfully captured She-Hulk and the Hulk, created a nasal spray that temporarily imbues people with super strength, and staged a battle with the Hulk -- all out of greed. He desired publicity which he thought would help popularize his product. After the Hulk defeated him and Thunderbolt Ross captured him, "Spinach" said: "Be sure to tell everyone what you saw here. This green stuff is going to make me a lot of green... once I get back on my feet."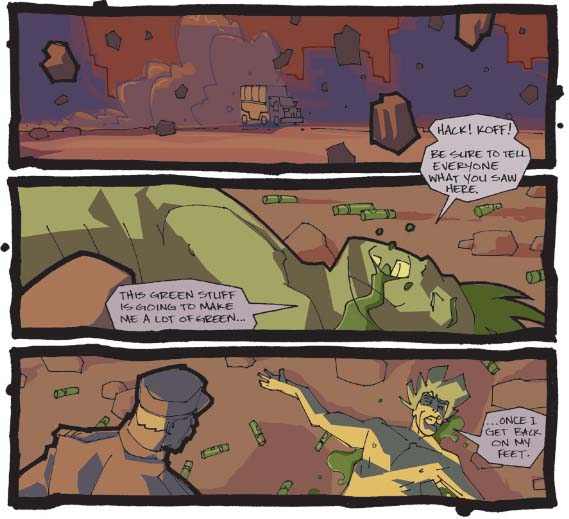 Source: Marvel Double-Shot #1 (Jan. 2003): "Spinach", pg. 10, panels 3-5. Written by Rob Haynes. Art by Rob Haynes. See also: greed; Spinach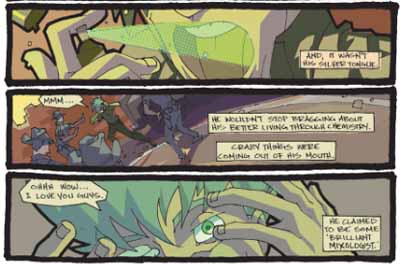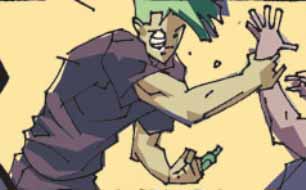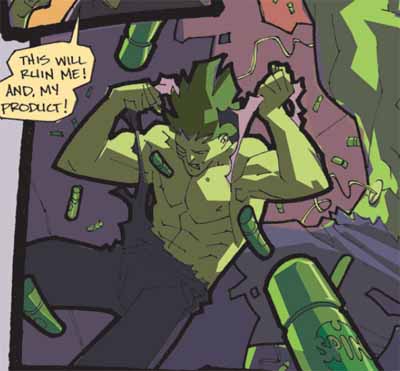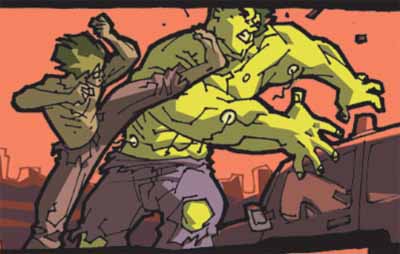 This character is in the following story which has been indexed by this website:

Marvel Double-Shot #1 (Jan. 2003): "Spinach"

Suggested links for further research about this character:
- http://www.marvunapp.com/master/spiespz.htm
- https://www.comics.org/issue/277035/
- http://comicbookdb.com/issue.php?ID=49706
- http://marvel.wikia.com/Marvel_Double_Shot_Vol_1_1
- http://www.comicvine.com/marvel-double-shot-spinach-dear-thor/37-152746/
- http://www.comiccollectorlive.com/LiveData/Issue.aspx?id=bc0300fc-d02b-47ec-87e3-09efde47efbc