The Chorus


Name: The Chorus

Other Names: psychics

Classification:

supporting characters

group
Publisher(s):

First Appearance: The Defenders (vol. 1) #102 (Dec. 1981): "Mind Games!"
Creators: J. M. DeMatteis, Don Perlin, Joe Sinnott, Sal Trapani, Jack Abel
Super? (Has Super Powers/Special Abilities/Technology): Yes
Number of Appearances: 17
Ally: Over-Mind
Ally: August Masters
Ally: Nighthawk (Kyle Richmond)
Note: ESP-powered group
The group known as "The Chorus" (and sometimes simply as the "psychics") was a group of seemingly regular people from all walks of life who possessed extra sensory perceptions (ESP). The group was gathered by August Masters as a key part of his plan to trigger World War III through a psychic assault on Russia.
The psychics who were members of the Chorus were: Al Gentle, Theodore Kroeber, Phillip LeGuin, Georgia Orr, Ursula Richards, and Mindy Williams.
August Masters' plan to start World War III failed and his base exploded during his attempted attack on Russia. The explosion destroyed the physical bodies of the people in the Chorus. But their minds survived and coalesced into a composite being. The composite psychic entity known as the Chorus tried to save the life of Kyle Richmond (Nighthawk), but accidentally saved August Masters, the very man who had attempted to use them to foward his own nefarious goals. Masters was transported to Earth-712, home of the Squadron Supreme.
The Chorus took possession of the Over-Mind, a powerful individual. For a time, the Over-Mind existed as a merged being, with the physical form and mind of the original Over-Mind (Grom) existing alongside the surviving minds of the psychics of the Chorus.
Finally, in Quasar #12, the Chorus was expelled from the Over-Mind's form, leaving only Grom's mind remaining.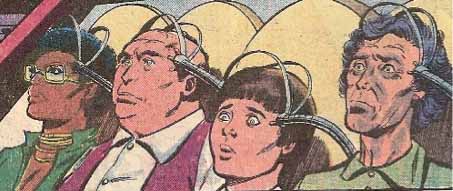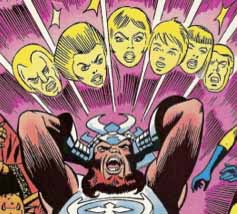 This character is in the following 17 stories which have been indexed by this website:

Captain America

The Defenders

Marvel Comics Presents (vol. 1) #40 (Dec. 1989): "Anything"

Quasar #12 (July 1990): "Games Deviants Play"

Suggested links for further research about this character:
- http://www.marvunapp.com/Appendix3/psychicsdef.htm
- http://www.marvunapp.com/master/chimchz.htm
- http://www.marvunapp.com/master/pspt.htm
- https://www.comics.org/issue/35881/
- http://www.comicvine.com/the-defenders-mind-games/37-21726/
- http://marvel.wikia.com/Defenders_Vol_1_102