The Religious Affiliation of


The Haamin


Religion: alien

Name: The Haamin
Other Names: The Black Fleet; Haamin race
Classification:

villains

group
Publisher(s):

First Appearance: Marvel Preview #4 (Jan. 1976): "The Sword in the Star! Stave 1: Alas, the Seeds of Man!"
Creators: Bill Mantlo, Ed Hannigan, P. Craig Russell, Rick Bryant
Super? (Has Super Powers/Special Abilities/Technology): Yes
Number of Appearances: 4
Enemy of: The Sword in the Star, Wayfinder, King of the Ithacons, Ithacons, Delphos
Type of Organization/Group: alien race
Note: enemies of Ithacon, other human-descendants
Thousands of years in the future, humans have left Earth and spread out across the galaxy, diverging into different races. The Haamin are one such human-descended race. The Haamin focus their efforts on slaughtering the other races of man, including the Ithacons.
The Haamin were ultimately able to slaughter all of the Ithacons except for Prince Wayfinder.
The Haamin were devoted to slaughtering all life in the galaxy - not just descendents of Earth humans. Theirs was described as "an unholy mission to eradicate all life in the galaxy." It was said that the Haamin had journeyed so far from Earth and into the uknown that they plunged into madness and were transformed into something beyond human understanding. Their return to the realm of Earth humans was horrible to behold, as they wiped out entire races of Earth-descended humans.
Prince Wayfinder ultimately used the Sword in the Star, a sentient sword worshipped by his people, to finally defeat the Haamin.
Marvunapp.com refers to "The Black Fleet," which appeared only in the "Sword in the Star" story in Marvel Preview #4. Presumably this is the deadly warfleet of the Haamin race. In the story of the origins of Wayfinder and the Microverse, the Haamin race of divergent far-future humans is essentially inseparable from the fleet they sent to wipe out all races. Most other races of the era never encountered the Haamin race except through their destroying fleet of warships. We have opted to use a single entry for the Black Fleet and the Haamin race.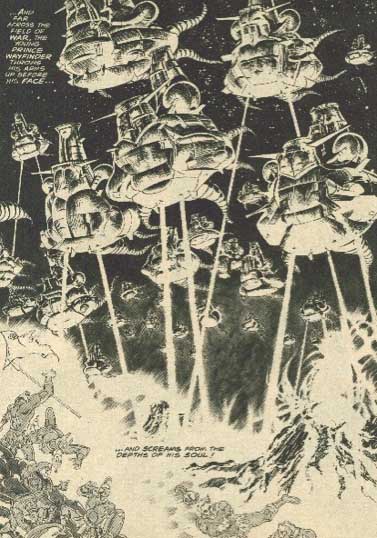 This character is in the following 2 stories which have been indexed by this website:

Marvel Preview

Suggested links for further research about this character and the character's religious affiliation:
- http://www.comicvine.com/the-haamin/65-56204/
- http://www.marvunapp.com/Appendix/earthswordinthestar.htm#HAAMIN
- http://www.marvunapp.com/master/haahal.htm
- http://www.marvunapp.com/master/black0af.htm
- http://www.marvunapp.com/master/irpiz.htm
- http://www.marvunapp.com/Appendix3/blackfleetmv.htm
- https://www.comics.org/issue/29474/
- http://comicbookdb.com/issue.php?ID=86712
- http://marvel.wikia.com/Marvel_Preview_Vol_1_4
- http://www.comicvine.com/marvel-preview-the-starlord-who-he-is-and-how-he-came-to-be/37-16009/