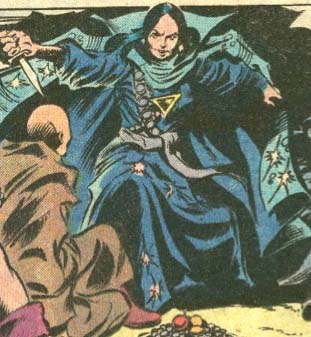 The Religious Affiliation of


Shadowqueen


Shialmar

Religion: sorceress; demonolatry

Name: Shadowqueen
Alter Ego: Shialmar
Other Names: Dread Leige; Shi'almar; Princess Shialmar; The Shadow Queen; Shialmar, the Shadowqueen; Shailmar, the Shadowqueen; Shailmar
Classification:

villain
Publisher(s):

First Appearance: Doctor Strange (vol. 2) #43 (Oct. 1980): "Shadowqueen!"
Creators: Chris Claremont, Gene Colan, Dan Green
Super? (Has Super Powers/Special Abilities/Technology): Yes
Number of Appearances: 4
Enemy of: Doctor Strange, Clea, Wong, Lords of the Golden Dragon, Silver Fox, Su-Lin, Jehan, Vung, Duron, The Wizard Kings
Ally: Vung
Employer: N'Garai
Occupation: queen
Dimension: Kaichek
Gender: female
Note: soul exorcised by Dr. Strange
Shialmar, the Shadowqueen was the queen of the otherdimensional realm known as the "Realm of the Shadowqueen," and later revealed to be named Kaichek.
Shialmar did some terrible, villainous things as a servant of the demon race known as the N'Garai. But Doctor Strange was able to exorcise the evil from Shialmar's soul. She died afterward, having been given a chance to change her ways.
While she was a servant of the N'Garai, Shialmar even sacrificed her own brother Jehan to them.
Shialmar had the ability to turn people into living gargoyles, which is something she did her enemies on a number of occasions.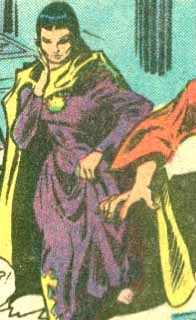 This character is in the following 6 stories which have been indexed by this website:

Doctor Strange

Suggested links for further research about this character and the character's religious affiliation:
- http://www.marvunapp.com/Appendix2/shadowqueenstrange.htm
- http://comicbookdb.com/character.php?ID=12007
- http://marvel.wikia.com/Shialmar_(Earth-616)
- http://www.comicvine.com/shadowqueen/29-11837/
- http://www.marvunapp.com/master/shaashal.htm
- http://www.marvunapp.com/master/rbrec.htm
- http://www.comiccollectorlive.com/LiveData/Character.aspx?id=819eed8f-efd7-4dc4-a770-d1b1921ae200
- https://www.comics.org/issue/34766/
- http://comicbookdb.com/issue.php?ID=49009
- http://marvel.wikia.com/Doctor_Strange_Vol_2_43
- http://www.comicvine.com/doctor-strange-/37-20727/