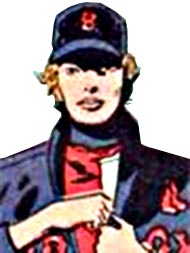 Kathy Malper


Religion: indeterminate

Name: Kathy Malper

Other Names: Ms. Malper; The Dragon Lady; Kathy Malpher

Classification:

supporting character
Publisher(s):

First Appearance: Daredevil (vol. 1) #299 (Dec. 1991): "Regicide"
Creators: D. G. Chichester, Lee Weeks, Al Williamson
Number of Appearances: 8
Enemy of: The Kingpin, The Triple Threat Killer, System Crash
Employer: Justice Department
Ally: Daredevil
Occupation: attorney, government official
Location: Manhattan, New York City, New York, USA
Race: white
Gender: female
Note: vigorously prosecuted Asian crime lords
Kathy Malper was a District Attorney in New York City.
Ms. Malper was mentioned in panel 5 on page 6 in Captain America (vol. 1) #431.
In the Avengers Mansion, Captain America asked his communications officer, Peggy Carter: "The Vision hasn't called in, has he? He's down in New Orleans doing some computer scanning for me, trying to get a line on some missing children."
Peggy replied: "Nothing from him, but I did get a call for you from a Ms. Malper in the Justice Department, requesting you look into something."
Captain America told her: "I'll talk to her, but first could you patch me through to my inventing buddy in Brooklyn?"

This character is in the following 15 stories which have been indexed by this website:

Captain America (vol. 1) #431 (Sep. 1994): "The Next Generation"
(mentioned)

Daredevil

Suggested links for further research about this character:
- http://www.comicvine.com/kathy-malper/29-65583/
- http://www.manwithoutfear.com/daredevil-characters/Kathy_Malper
- http://marvel.wikia.com/Kathy_Malper_(Earth-616)
- http://www.marvunapp.com/master/mahmam.htm
- http://www.marvunapp.com/Appendix3/systemcrashdd.htm
- http://www.comiccollectorlive.com/LiveData/Character.aspx?id=d57e2f90-06f6-4a6e-a130-2aacf2759229
- http://www.marvunapp.com/Appendix/burroughscharlesdd.htm
- http://marvel.wikia.com/Daredevil_Vol_1_299