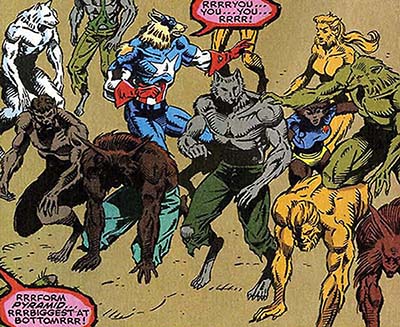 werewolves


Name: werewolves

Other Names: Wolf-Men; Wolfmen; Moonchildren

Classification:

villains

group
Publisher(s):

First Appearance: Captain America (vol. 1) #164 (Aug. 1973): "Queen of the Werewolves!"
NOTE: This is our current best assessment of the first appearance of this character, but this has been flagged in our database as uncertain.
Creators: Steve Englehart, Alan Weiss, John Romita
Super? (Has Super Powers/Special Abilities/Technology): Yes
Number of Appearances: 7
Type of Organization/Group: hidden race
Note: generic listing
Sometimes a generic listing for werewolves can be useful, such as when hordes of werewolves are encountered who have been artificially created by Tilda Johnson, a.k.a. "Deadly Nightshade", a.k.a. "Queen of the Werewolves."
As seen in Werewolf by Night (vol. 1) #19 (July 1974), the Libro del Malditos (or, more correctly, the Libro de los Malditos), was a magical tome which contained information about werewolves. There is some speculation that it was a partial copy of the Darkhold.
Number of group members listed below: 2
Character
(Click links for info about character
and his/her religious practice, affiliation, etc.)
Religious
Affiliation
Team(s)


[Notes]

Pub.
#
app.

| | |
| --- | --- |
| | Werewolves (apostate) |

werewolves
[renounced werewolf heritage]
2

[generic listing]

7
This character is in the following 10 stories which have been indexed by this website:

Captain America

Doctor Strange, Sorcerer Supreme #27 (Mar. 1991): "TBOTV:Legacy of the Wolf, Part 2"
(lead character)

Marvel Spotlight (vol. 1) #2 (Feb. 1972): "Werewolf By Night"

The Savage Sword of Conan #14 (Sep. 1976): "The Silver Beast Beyond Torkertown"

Wolverine Annual '99 (Dec. 1999): "Crying Wolf!"

Writer's Block (2014)
(mentioned)

Suggested links for further research about this character:
- http://www.marvunapp.com/list/appwerew.htm
- http://www.comicvine.com/moonchildren/65-57258/
- http://www.marvunapp.com/master/wejwg.htm
- http://marvel.wikia.com/Captain_America_Vol_1_164
- http://marvel.wikia.com/Captain_America_Vol_1_190
- http://www.captainamericalibrary.com/superhero-library/captain-america/captain-america-comic-details.aspx?id=CA1&issue=190
- http://www.comiccollectorlive.com/LiveData/Character.aspx?id=f422764a-dbd3-4eb1-a240-d8ab7021efbf
- http://www.marvunapp.com/master/lialig.htm