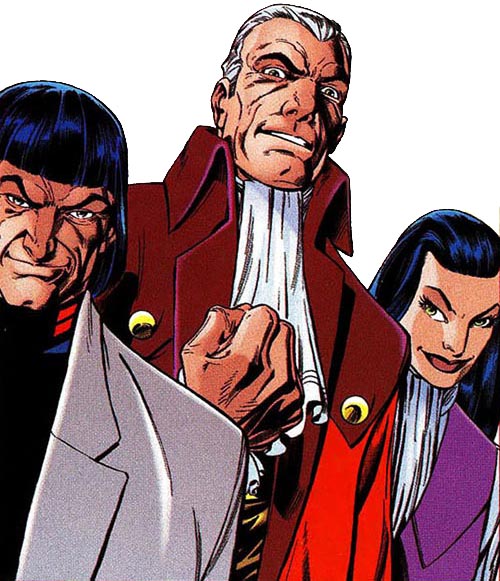 The Religious Affiliation of


The Elite


Religion: British Loyalist in U.S.

Name: The Elite
Classification:

villains

group
Publisher(s):

First Appearance: Captain America (vol. 1) #193 (Jan. 1976): "The Madbomb Screamer in the Brain!"
Creators: Jack Kirby, Frank Giacoia, Mike Esposito
Number of Appearances: 12
Teams/Affiliations: Royalist Forces of America
Enemy of: Captain America, Falcon
Nation: USA
Note: secret network of rich/powerful; tried overthrow U.S. govt.
The Elite was a highly secretive network of Americans who were wealthy and powerful. The group was originally organized by William Taurey. Other members of the Elite, all of whom came from privileged backgrounds, included Hesperus Chadwick, Cheer Chadwick, and Gloucester.
Mason Harding, the scientist who invented the Madbombs, also was a member of the Elite. But he turned on them when he realized the error of their ways.
The Elite formed a larger organization known as the Royalist Forces of America. The founding members of the Elite were also connected to the Secret Empire, which grew to be one of the world's largest secret organizations bent on world domination.
Through the Royalist Forces of America (which later became the Imperial Forces of America), the Elite attempted to overthrow the U.S. government in order to replace it with their own ideal leadership. Originally this leadership was envisioned as being British-based. They were British loyalists who wanted to roll back American independence. Later it appears that they were not so set on returning to British rule, and more interested in simply overthrowing the current American government in favor of their own idea, "elite", hand-picked leaders.
In all of their incarnations, the Elite were definitely "elitist" and had a strong dislike for people they regarded as "low-born."
Much of the funding for the Elit came from Captain America's old foe, Baron Helmut Zemo, but it is not clear how many people knew that. His identity as a key person behind the Elite and the Royalist Forces seems to have been a secret known to only a few.
Number of group members listed below: 8
Character
(Click links for info about character
and his/her religious practice, affiliation, etc.)
Religious
Affiliation
Team(s)


[Notes]

Pub.
#
app.
Royalist Forces of America; Secret Empire...
[Dr. Hesperus Chadwick's daughter]
7
Royalist Forces of America; Secret Empire...
[invented Shriequencer]
7
Royalist Forces of America; Secret Empire...
2
Royalist Forces of America
[secret network of rich/powerful; tried overthrow U.S. govt.]
12
Royalist Forces of America; Secret Empire...
2

| | |
| --- | --- |
| | Royalist Forces of America |

Royalist Forces of America; The Elite
7
Royalist Forces of America (founder); Secret Empire...
[tried to end democracy in America]
7
Royalist Forces of America; Secret Empire...
2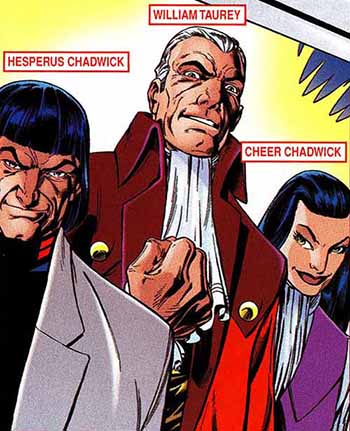 This character is in the following 13 stories which have been indexed by this website:

Captain America

Thunderbolts

Suggested links for further research about this character and the character's religious affiliation:
- http://marvel.wikia.com/Elite_(Imperial_Forces)_(Earth-616)
- http://www.marvunapp.com/master/el.htm
- http://www.marvunapp.com/master/rosroz.htm