Femme Force


Name: Femme Force

Other Names: Femme Force One; Fem Force; SHIELD Strike Force One

Classification:

supporting characters

group
Publisher(s):

First Appearance: Captain America (vol. 1) #144 (Dec. 1971): "HYDRA Over All!"
Creators: Gary Friedrich, John Romita
Number of Appearances: 6
Teams/Affiliations: S.H.I.E.L.D.
Enemy of: Agent 22
Type of Organization/Group: agent
Nation: USA
Note: all-female SHIELD sub-group
Femme Force was an all-female sub-unit of S.H.I.E.L.D.
Femme Force first appeared in Captain America (vol. 1) #144. At the beginning of the story that introduced Femme Force, we see another new SHIELD sub-unit, called Aero-Attack Force One, being led directly by Nick Fury, flanked by Captain America. (The rest of the squad consisted of numerous unnamed SHIELD agents, all of whom wore flyng jet packs. Aero-Attack Force One is seen raiding a HYDRA base filled with dozens of HYDRA agents. The flying SHIELD agents, led by Nick Fury and Captain America, are able to take down the HYDRA agents, with the help of another SHIELD sub-group: Femme Force. When the battle is over, however, it is revealed that the entire skirmish had been staged as a demonstration for President Richard Nixon and his military advisors, as part of SHIELD's bid to get funding for new technologies and funding to continue Femme Force.
Femme Force was led by longtime Captain America love interest Sharon Carter, flanked by longtime Nick Fury love interest Contessa Valentina. There were numerous other female agents on the squad, none of whom were named. In their first appearance, at least 5 agents in total (including Carter and the Contessa) could be seen, but there may have been more. The agents of Femme Force all rode flying sky sleds.
About Femme Force, Nixon aide Melvin Laird (a real person, by the way) suggested: "And as for the Femme Force -- well, we should certainly consider more funds for that project."
In their second appearance (Captain America #145, Femme Force reported to duty with 8 agents flanking second-in-command Contessa Valentina, soon joined by squad leader Sharon Carter. This suggests a squad of 9 agents in total.
Number of group members listed below: 6
Character
(Click links for info about character
and his/her religious practice, affiliation, etc.)
Religious
Affiliation
Team(s)


[Notes]

Pub.
#
app.

| | |
| --- | --- |
| | Christian (denomination unknown) |

Femme Force; S.H.I.E.L.D.
262

| | |
| --- | --- |
| | HYDRA |

Femme Force; HYDRA...
[founding member of Femme Force; actually loyal to HYDRA]
1

indeterminate

Femme Force; S.H.I.E.L.D.
5

indeterminate

Femme Force; S.H.I.E.L.D.
5
S.H.I.E.L.D.
[all-female SHIELD sub-group]
6
Femme Force; S.H.I.E.L.D.
146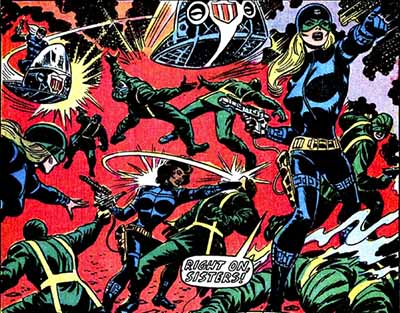 This character is in the following 6 stories which have been indexed by this website:

Captain America

Marvel Team-Up (vol. 1) #82 (June 1979): "No Way to Treat a Lady"

Suggested links for further research about this character:
- http://www.comicvine.com/femme-force/65-56337/
- http://www.marvunapp.com/master/fe.htm