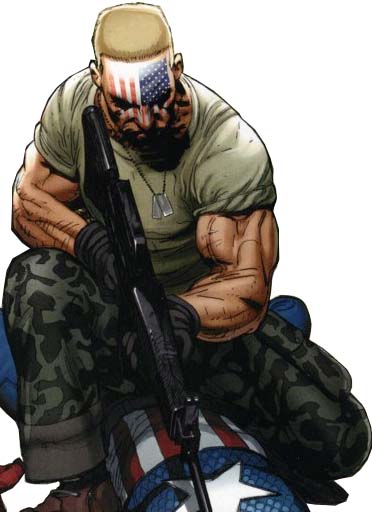 The Religious Affiliation of


Nuke


Frank Simpson

Religion: ultra-nationalist

Name: Nuke
Alter Ego: Frank Simpson
Other Names: Scourge; Frank Charles Simpson; Agent Simpson
Classification:

villain
Publisher(s):

First Appearance: Daredevil (vol. 1) #232 (July 1986): "God and Country"
First Appearance (Additional Details): (as Scourge) Thunderbolts (vol. 1) #133 (Aug. 2009)
Creators: Frank Miller, David Mazzucchelli
Super? (Has Super Powers/Special Abilities/Technology): Yes
Number of Appearances: 15
Teams/Affiliations: The Thunderbolts; U.S. Army; Weapon Plus
Enemy of: Daredevil, Nick Fury, Black Widow, Songbird, The Avengers
Occupation: intelligence agent, mercenary, soldier
Worked for: General Lewis Haywerth
Race: white
Gender: male
Nuke (Frank Simpson) first appeared in the guise of a new villainous "Scourge" in Thunderbolts #133 (Aug. 2009). This issue was written by Andy Diggle and illustrated by Miguel Sepulveda. Scourge was a mysterious new addition to Norman Osborn's black ops team of Thunderbolts. Scourge remained masked and mysterious for a while. He was not unmasked and revealed as Frank Simpson (a.k.a. Nuke) until Thunderbolts #136 (Nov. 2009). At that time, having been "outed" in battle with fellow Thunderbolts, Simpson told Osborn he would prefer to be unmasked and referred to as "Nuke" from then on.
In the next issue, however (Thunderbolts #137), Simpson was once again wearing his Scourge costume and mask. The only real difference was that readers now knew who he was and at the end of the story, after sustaining significant injuries in battle, he appeared in a meeting with all current Thunderbolts - without his mask on.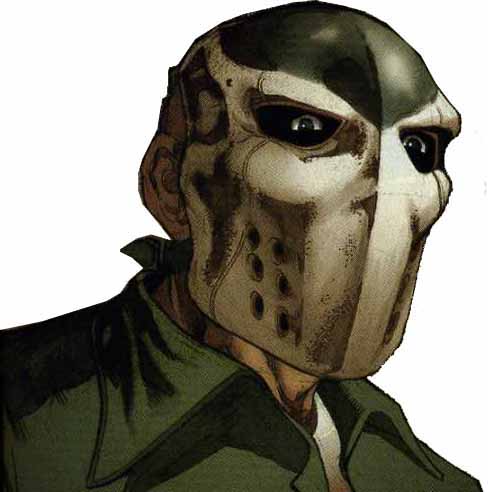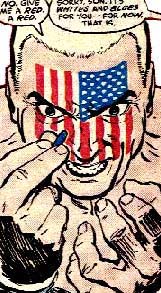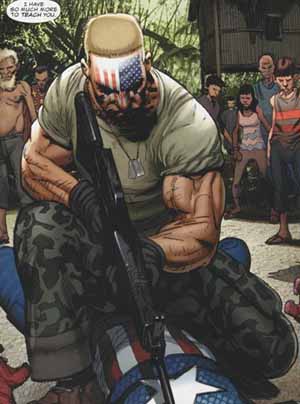 This character is in the following 26 stories which have been indexed by this website:

Captain America

Captain America: Reborn #3 (Nov. 2009)

Captain America: The Legend #1 (Sep. 1996)

Daredevil

Marvel Legacy: The 1980s Handbook (Mar. 2007)

New X-Men (vol. 1) #145 (Oct. 2003): "Assault on Weapon Plus, Part Four: The Devil"
(photo/picture/video)

Spider-Woman (vol. 4) #4 (Feb. 2010): "Agent of S.W.O.R.D.: Part 4"

Thunderbolts

Ultimate Captain America

Suggested links for further research about this character and the character's religious affiliation:
- http://comicbookdb.com/character.php?ID=4692
- http://www.marvel.com/universe/Nuke
- http://www.marvunapp.com/master/npnz.htm
- http://comicbookdb.com/character.php?ID=32955
- http://comicbookdb.com/issue.php?ID=172851
- https://www.comics.org/issue/41630/