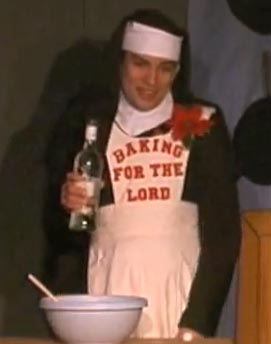 The Religious Affiliation of


Sister Julia, Child of God


Sister Julia

Religion: Catholic nun

Name: Sister Julia, Child of God
Alter Ego: Sister Julia
Other Names: Child of God
Classification:

supporting character

clergy/religious leader

based on a real person
Publisher(s): Cherry Lane Theatre; Douglas Fairbanks Theater
First Appearance: Nunsense (1985)
First Appearance (Additional Details): (mentioned) Nunsense (1985); (seen) Nunsense: The Mega-Musical Version (2011)
Creators: Dan Goggin
Number of Appearances: 2
Comic Book Appearances: 1
Play/Musical Appearances: 1
Employer: Little Sisters of Hoboken
Occupation: cook
Nation: France
Gender: female
Note: accidentally killed 52 fellow nuns with food poisoning
"Sister Julia, Child of God" was named after (and partially based upon) famed chef Julia Child.
Sister Julia, Child of God was not an actual part in the original Nunsense musical, which features just five female performers in the cast (Sister Mary Regina, Sister Mary Hubert, Sister Robert Anne, Sister Mary Leo and Sister Mary Amnesia). Sister Julia may have only been mentioned as an important "off-stage" character.
In an expanded version of the musical, known as Nunsense: The Megamusical, there are additional smaller speaking and singing parts aside from the core 5 nuns. One of these additional on-stage parts is that of Sister Julia, Child of God.
This character is in the following 5 stories which have been indexed by this website:

Nunsense

Nunsense 2: The Sequel (1994)
(mentioned)

Nunsense II: The Second Coming (1993)
(mentioned)

Nunsense: The Mega-Musical Version (2011)

Suggested links for further research about this character and the character's religious affiliation:
- http://en.wikipedia.org/wiki/Nunsense
- http://www.guidetomusicaltheatre.com/shows_n/nunsense.htm
- http://www.imdb.com/title/tt0114017/
- http://www.musicalsatrichter.org/Nunsense2012.php
- http://compasspaper.com/nunsensethe-megamusical-version-p4598-92.htm