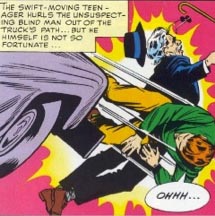 unnamed blind old man


Religion: indeterminate

Name: unnamed blind old man

Other Names: Blind Old Man; old man; old blind man; Maggie's father

Classification:

supporting character
Publisher(s):

First Appearance: Daredevil (vol. 1) #1 (Apr. 1964): "The Origin of Daredevil"
Creators: Stan Lee, Bill Everett, Steve Ditko, Sol Brodsky
Number of Appearances: 2
Defended or Helped by: Matt Murdock
Location: New York City, New York, USA
Race: white
Gender: male
Note: saving old man led Matt Murdock to be blinded, gain powers
A blind old man was directly connected to Matt Murdock becoming Daredevil. When Murdock was just a boy, he saved an old blind man who was crossing the street from being hit by a truck. Murdock pushed the blind man out of the way, but then he himself was hit by the truck.
The truck was carrying radioactive waste, some of which spilled onto Matt Murdock's eyes. The radiation blinded him, but also heightened his other senses. This is an integral part of Daredevil's origin story, and was chronicled in Daredevil (vol. 1) #1.
Many years later, Daredevil encountered a villainous serial killer named "Johnny Sockets," who turned out to be a woman named Maggie Farrell. After tracking down and defeating Farrell, Daredevil learned that she was the daughter of the old blind man he had saved when he (Matt) was just a boy. The blind man's abuse of his daughter Maggie was part of what led her to become a serial killer.
The old blind man's last name was NOT "Farrell." Maggie Farrell's last name as an adult came from Sean Farrell, her step-father.
The old blind man was a diabetic who drank heavily, leading to the loss of his sight, and eventually the loss of his legs as well. When Daredevil encountered the old blind man after the "Johnny Sockets" incident, the man was in a wheelchair.
The old blind man was deeply sorry about the damage he had done to his daughter. He recognized that his past actions were responsible for her becoming a serial killer. He wept and begged Daredevil for forgiveness, but hit was too late. Maggie was dead, shot by police who were trying to apprehend her.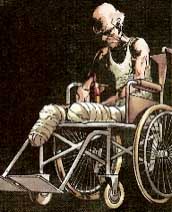 This character is in the following 6 stories which have been indexed by this website:

Daredevil

Daredevil: Father

Suggested links for further research about this character:
- http://www.marvunapp.com/Appendix4/johnnysockets.htm#fath
- http://www.manwithoutfear.com/issuesinfo.cgi?issue=1
- http://www.marvunapp.com/master/jijom.htm
- http://marvel.wikia.com/Daredevil_Vol_1_1
- https://www.comics.org/issue/18338/
- http://www.comicvine.com/daredevil-the-origin-of-daredevil/37-7067/
- http://www.comiccollectorlive.com/LiveData/Issue.aspx?id=e0d1474b-60d2-4e7b-aa6e-1331b3f81172