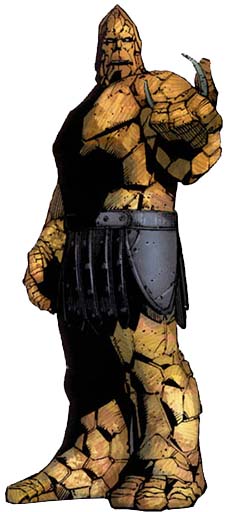 The Religious Affiliation of


Stone Men from Saturn


Kronan

Religion: Kronan religion

Name: Stone Men from Saturn
Alter Ego: Kronan
Other Names: Kronans; Stone Men; Saturnians; the Rock People from Saturn
Classification:

supporting characters

villains

group
Publisher(s):

First Appearance: Journey Into Mystery (vol. 1) #83 (Aug. 1962): "The Stone Men from Saturn!"
Creators: Stan Lee, Larry Lieber, Jack Kirby, Joe Sinnott
Super? (Has Super Powers/Special Abilities/Technology): Yes
Number of Appearances: 32
Type of Organization/Group: alien race, security guard
Planet: Ria
Note: best known member of race is Warbound's Korg
Kronans come from the planet Ria in the Kronan star system.
In their attempts to invade Earth, the Kronan have used various forms of advanced technology. These include Mechano-Monster (a robot weapon the deployed unsuccessfully against Thor), the Mekkanoid (another robot, destroyed by Anak of the Godpack), the Gravitron (a weapon that increased gravity, as seen in Thor #255), and a powerful illusion-caster.
Number of group members listed below: 6
Character
(Click links for info about character
and his/her religious practice, affiliation, etc.)
Religious
Affiliation
Team(s)


[Notes]

Pub.
#
app.
Kronan
[parent of Korg (of Hulk's Warbound)]
1
Kronan
4
Kronan
[died in battle with Hulk's Warbound; Korg's brother]
7

| | |
| --- | --- |
| | N.A. |

[robotic weapon destroyed by Anak of the Godpack]

1

[best known member of race is Warbound's Korg]

32
Kronan; Starblasters
[Mark Gruenwald, Herb Trimpe, Ralph Cabrera]
3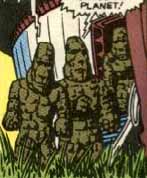 This character is in the following 8 stories which have been indexed by this website:

Avengers Spotlight #25 (Dec. 1989): "Best Seller!"

Captain America Annual #11 (Oct. 1992): "An Epic Adventure"

Journey Into Mystery

Quasar #55 (Feb. 1994): "Starblast Pt. 6: In a Stranger Land"

Thor

Suggested links for further research about this character and the character's religious affiliation:
- http://www.marvunapp.com/Appendix/kronanst.htm
- http://marvel.wikia.com/Kronans
- http://www.comicvine.com/kronans/65-13986/
- http://comicbookdb.com/team.php?ID=2037
- http://www.marvunapp.com/master/krikrz.htm
- http://www.marvunapp.com/master/gpgrd.htm
- https://www.comics.org/issue/17100/
- http://comicbookdb.com/issue.php?ID=6942
- http://marvel.wikia.com/Journey_Into_Mystery_Vol_1_83