Kira


Religion: not determined yet

Name: Kira

Classification:

supporting character
Publisher(s):

First Appearance: Daredevil (vol. 1) #198 (Sep. 1983): "Touch of a Stranger"
Creators: Denny O'Neil, William Johnson, Danny Bulanadi
Number of Appearances: 2
Ally: Yuriko Oyama (Lady Deathstrike)
Defended or Helped by: Daredevil
Worked for: Dark Wind
Nation: Japan
Race: Asian
Gender: male
Note: man who Lady Deathstrike loved
Kira is a Japanese man who worked for Lord Dark Wind. Dark Wind's daughter Yuriko Oyama fell in love with Kira. Yuriko wanted to get Kira away from Dark Wind's influence, because she was always fearful that he would be hurt or killed while fighting for him and his fanatic causes.
Dark Wind ordered Kira to row him to an island where he could assassinate the Japanese trade minister. But while they were en route to the island, Bullseye refused to complete the assassination because he had not been paid yet. He threw Kira out of the boat.
Daredevil and Yuriko defeated Dark Wind and saved Kira. Bullseye escaped. Yuriko killed her father to put an end to his evil and to put an end to his influence over Kira, the man she loved.
Kira was so distraught over the death of his master (Dark Wind) that he committed suicide.
Yuriko was deeply in love with Kira, and his death was a massive shock to her. It changed her outlook radically. She vowed to complete her father's work. Later, Yuriko became the villain Lady Deathstrike.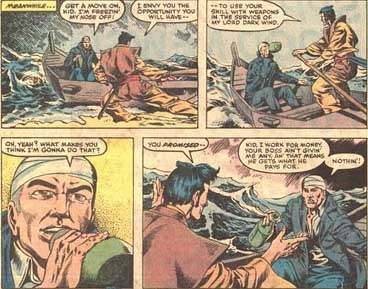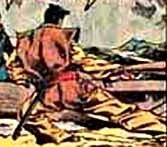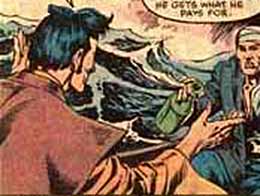 Suggested links for further research about this character:
- http://marvel.com/universe/Lady_Deathstrike
- http://marvel.wikia.com/Daredevil_Vol_1_198
- http://www.manwithoutfear.com/daredevil-volume-1/issue/198
- http://marvel.wikia.com/Daredevil_Vol_1_199
- http://www.manwithoutfear.com/daredevil-volume-1/issue/199
- http://www.comiccollectorlive.com/LiveData/Issue.aspx?id=84831ab0-a546-4600-b273-d31fc00ae5e5