Eight-Ball


Butch

Religion: not determined yet

Name: Eight-Ball

Alter Ego: Butch

Other Names: Snitch; 8-Ball

Classification:

supporting character
Publisher(s):

First Appearance: Longshot (vol. 1) #4 (Dec. 1985): "Can't Give It All Away!"
Creators: Ann Nocenti, Arthur Adams, Whilce Portacio
Number of Appearances: 16
Teams/Affiliations: Fatboys
Ally: Alfie
Ally: Darla
Ally: Longshot
Ally: Daredevil
Occupation: student
Location: New York City, New York, USA
Race: white
Gender: male
When Butch and his friends (Darla, Alfie, etc.) first appeared, they were simply friends who belonged to an informal club of skateboarding kids. The group had no name. Later, in New Mutants Annual #2 and X-Men Annual #10, the group became known as the "Bratpack." Still later, in their appearances in Daredevil, they were known as the "Fatboys" or "Fat Boys."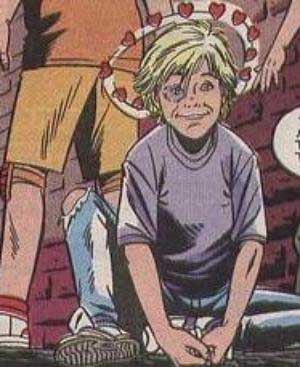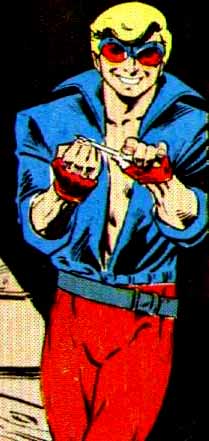 This character is in the following 23 stories which have been indexed by this website:

Daredevil

Longshot

The New Mutants Annual #2 (Oct. 1986): "Why Do We Do These Things We Do?!"

The Punisher War Journal (vol. 1) #12 (Dec. 1989): "Contrast in Sin"
(cameo)

The Uncanny X-Men Annual #10 (Dec. 1986): "Performance"
(cameo)

Suggested links for further research about this character:
- http://www.comicvine.com/eight-ball/29-78292/
- http://www.comicvine.com/butch/29-13364/
- http://comicbookdb.com/character.php?ID=24900
- http://www.marvunapp.com/master/bumbz.htm
- http://www.marvunapp.com/master/egek.htm
- http://comicbookdb.com/team.php?ID=897
- http://www.marvunapp.com/master/faofd.htm
- https://www.comics.org/issue/40818/
- http://marvel.wikia.com/Longshot_Vol_1_4
- http://www.uncannyxmen.net/db/issues/showquestion.asp?fldAuto=2531