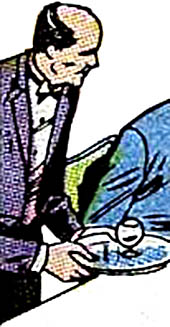 Curtis


Religion: not determined yet

Name: Curtis

Classification:

supporting character
Publisher(s):

First Appearance: The X-Men (vol. 1) #14 (Nov. 1965): "Among Us Stalk...The Sentinels!"
Creators: Stan Lee, Jack Kirby, Werner Roth (as Jay Gavin), Vince Colletta
Number of Appearances: 1
Employer: Warren Worthington family
Occupation: butler
Location: Long Island, New York, USA
Race: white
Gender: male
Curtis, a butler who worked for Warren Worthington's family, was first seen in panel 4 on page 10 in The X-Men (vol. 1) #14. Curtis, a balding older gentleman, served the Worthington family as they sit at their dining room table in "a luxurious estate on the fashionable North Shore of Long Island."
Curtis told Warren Worthington III (the "Angel" of the X-Men): "It's so good to have you home again, Master Warren!"
Young Warren replied: "Thank you, Curtis! It's good to be home!"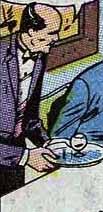 Suggested links for further research about this character:
- http://marvel.wikia.com/Curtis_%28Butler%29_(Earth-616)
- http://marvel.wikia.com/X-Men_Vol_1_14