The Religious Affiliation of


Sentinel 1


Religion: anti-mutant robot

Name: Sentinel 1
Other Names: Section Leader
Classification:

villain
Publisher(s):

First Appearance: The X-Men (vol. 1) #14 (Nov. 1965): "Among Us Stalk...The Sentinels!"
Creators: Stan Lee, Jack Kirby, Werner Roth (as Jay Gavin), Vince Colletta
Super? (Has Super Powers/Special Abilities/Technology): Yes
Number of Appearances: 1
Teams/Affiliations: Sentinels Mk I; Sentinels
Enemy of: X-Men
Nation: USA
Gender: not applicable
Sentinel 1 is identifiable by the number "1" displayed prominently on its torso. This Sentinel was first seen in panel 2 on page 8 in The X-Men (vol. 1) #14.
It was Sentinel 1 who blasted Sentinel creator Bolivar Trask with a stun beam in panel 4 on page 8.
Sentinel creator Bolvar Trask referred Sentinel 1 as the "Section Leader" for the squad of Sentinels which he brought to the New York City television station from which he introduced his creations to the world.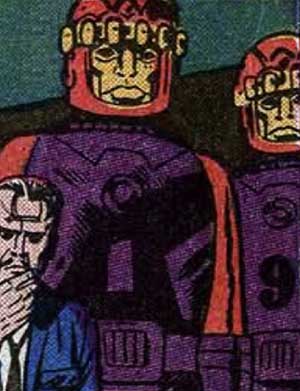 Suggested links for further research about this character and the character's religious affiliation:
- http://marvel.wikia.com/X-Men_Vol_1_14