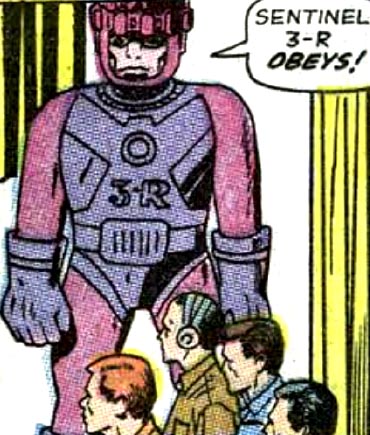 The Religious Affiliation of


Sentinel 3-R


Religion: anti-mutant robot

Name: Sentinel 3-R
Classification:

villain
Publisher(s):

First Appearance: The X-Men (vol. 1) #14 (Nov. 1965): "Among Us Stalk...The Sentinels!"
Creators: Stan Lee, Jack Kirby, Werner Roth (as Jay Gavin), Vince Colletta
Super? (Has Super Powers/Special Abilities/Technology): Yes
Number of Appearances: 1
Teams/Affiliations: Sentinels; Sentinels Mk I
Enemy of: X-Men
Nation: USA
Gender: not applicable
Sentinel 3-R is identifiable by the "3-R" displayed prominently on its torso. This Sentinel was first seen in panel 1 on page 11 in The X-Men (vol. 1) #14.
Sentinel 3-R was the most prominently featured Sentinel in X-Men #14. Through his actions, much of these Sentinels' "thinking" was glimpsed. The desire to return to the place where it was created was so strong within Sentinel 3-R that Charles Xavier was even able to receive vague mental impulses from the robot, despite the fact that normally robots are completely imperceptible to Xavier's telepathic powers.