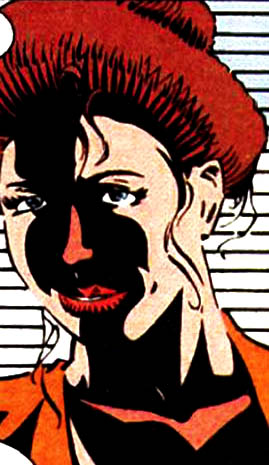 Sara Harrington


Religion: not determined yet

Name: Sara Harrington

Classification:

supporting character
Publisher(s):

First Appearance: Daredevil (vol. 1) #319 (Aug. 1993): "Fall from Grace Prologue: Temptation"
Creators: D. G. Chichester, Scott McDaniel, Hector Collazo, Harry Candelario
Number of Appearances: 6
Enemy of: Daredevil, Ben Urich
Ally: Ben Urich
Occupation: reporter
Worked for: The Daily Bugle
Location: New York City, New York, USA
Gender: female
Note: Ben Urich's intern; stole, sold files w/Daredevil identity
Sara Harrington was a fledgeling reporter who worked as an intern at the Daily Bugle, one of New York City's most prestigious newspapers.
Sara worked as in intern for Ben Urich, an experienced investigative reporter who had a longstanding friendship with Daredevil. Urich had discovered Daredevil's secret identity, and knew that Daredevil was really the blind attorney Matt Murdock. Urich had decided to not publish his findings as a newspaper story, however, after Daredevil explained that revealing that information would force him to quit his activities as a costumed vigilante and protector of the city.
Urich had kept his notes and files about his investigation, however, and Sara Harrington found them. After Sara stole Urich's files, she sold the information to a tabloid newspaper (Big Apple Advocate), which published a story "outing" Murdock as Daredevil. Not surprisingly, caused considerable difficulties for Daredevil. Eventually the story was discredited, and Murdock was able to get things back mostly to the way they had been before.
Sara Harrington's theft of Ben Urich's information was reported to authorities and Sara was arrested.



Suggested links for further research about this character:
- http://www.comicvine.com/sara-harrington/29-26535/
- http://www.manwithoutfear.com/daredevil-characters/Sara%20Harrington
- http://www.marvunapp.com/master/harkharz.htm
- https://www.comics.org/issue/53472/
- http://marvel.wikia.com/Daredevil_Vol_1_319
- http://www.manwithoutfear.com/daredevil-volume-1/issue/319