The Religious Affiliation of


Erynys


Religion: Ninjutsu

Name: Erynys
Classification:

villain
Publisher(s):

First Appearance: Daredevil (vol. 1) #320 (Sep. 1993): "Fall from Grace: Part I"
Creators: D. G. Chichester, Scott McDaniel, Michael Avon Oeming
Super? (Has Super Powers/Special Abilities/Technology): Yes
Number of Appearances: 4
Teams/Affiliations: Snakeroot; The Hand
Enemy of: Daredevil
Gender: female
Note: corpse reanimated by Snakeroot and the Hand
Erynys was a corpse a dead woman that was re-animated by mystical ninjas of the Ninja sects Snakeroot and the Hand. These evil ninjas used Erynys as a warrior to battle their enemies, including Daredevil.
The ninjas instilled Erynys with the dark essence of Elektra (Daredevil's former lover and a former member of the Hand). They distilled this dark essence from the mind of SHIELD agent John Garrett, who had a complicated history with Elektra.
Ultimately, Erynys was killed -- as shown in Daredevil (vol. 1) #325 -- but its dark essence corrupted the resurrected Elektra.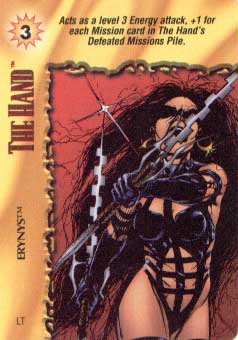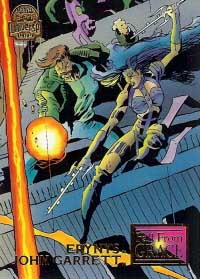 Suggested links for further research about this character and the character's religious affiliation:
- http://www.marvunapp.com/Appendix/erynysdd.htm
- http://www.marvunapp.com/master/eoet.htm
- https://www.comics.org/issue/53630/
- http://www.manwithoutfear.com/daredevil-volume-1/issue/322