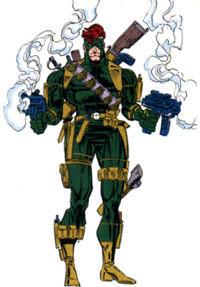 Solo


James Bourne

Religion: not determined yet

Name: Solo

Alter Ego: James Bourne

Classification:

hero
Publisher(s):

First Appearance: Web of Spider-Man (vol. 1) #19 (Oct. 1986): "Humbug!"
Creators: David Michelinie, Marc Silvestri, Bob McLeod
Super? (Has Super Powers/Special Abilities/Technology): Yes
Number of Appearances: 54
Teams/Affiliations: Anti-Registration Underground; Omega Strike; Six Pack
Occupation: vigilante
Gender: male
Note: anti-terrorist vigilante
Bourne was in army, stationed in Germany when he met Melinda Wallace and fell in love. She was killed by terrorists. He took her death hard and after funeral was drafted to top-secret special forces operation. He endured 10 months of brutal training and earned his place in the new counter-terrorist group Omega Strike lead by Emil Tessler.
This character is in the following 8 stories which have been indexed by this website:

The Amazing Spider-Man Annual

Cable & Deadpool #11 (Mar. 2005): "Thirty Pieces, Part 1: Predator & Pray"

Civil War: Battle Damage Report #1 (Mar. 2007)

Marvel Comics Presents

Web of Spider-Man

Suggested links for further research about this character:
- http://marvel.wikia.com/wiki/James_Bourne_(Earth-616)
- http://en.wikipedia.org/wiki/Solo_(Marvel_Comics)
- http://www.comicvine.com/solo/29-15485/
- http://www.marvel.com/universe/Solo
- http://www.reocities.com/marvel_terror/solo/solo.html
- http://www.marvunapp.com/master/soason.htm
- http://www.marvunapp.com/master/anoanz.htm
- http://www.comicboards.com/marvelguide/s4.html