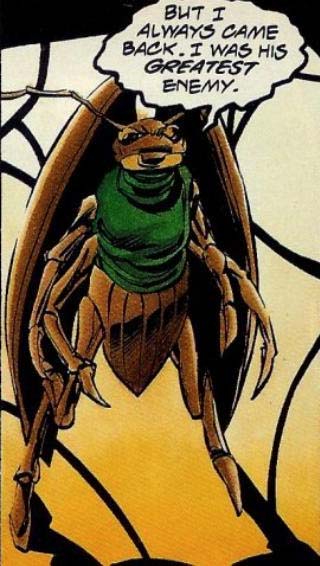 Cockroach Andy


Religion: not determined yet

Name: Cockroach Andy

Other Names: Andy

Classification:

villain
First Appearance: Icon #30 (Oct. 1995): "The Buck Passes"
Creators: Dwayne McDuffie, M. D. Bright, Caesar Antomattei (as Caesar), Mike Gustovich, Prentis Rollins, Ravil Lopez
Super? (Has Super Powers/Special Abilities/Technology): Yes
Number of Appearances: 1
Enemy of: Buck Wild
Occupation: engineer
Race: black
Gender: male
Summary of Icon #30 (Oct. 1995), from now-defunct webpage at http://milestone.luthor.com/comics_detail.asp?ID=215&:
The funeral of Buck Wild is attended by Icon among others. Icon gives an eulogy. The guests (Lysistrata Jones, Sweetstick Max, Cockroach Andy) tell off past Buck Wild stories and guises (Buck Goliath, Jim Crow, Buck Lightning). The service is interrupted by the Kingfish who is mad that Buck Wild (his enemy) is dead and brings him back as Buck Voodoo. Buck Voodoo tries to kill Kingfish and then decides being a zombie is useless. He goes back to death.
This character is in the following 2 stories which have been indexed by this website:

Icon #30 (Oct. 1995): "The Buck Passes"

Icon: Mothership Connection (May 2010): "The Buck Passes"

Suggested links for further research about this character:
- http://worldofblackheroes.com/2011/12/04/cockroach-andy/